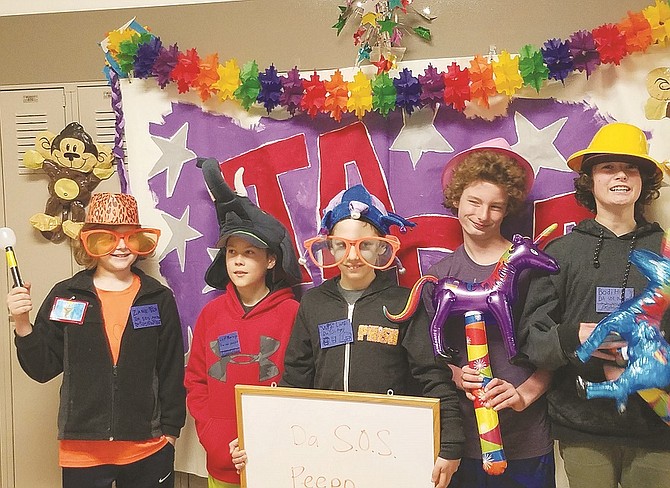 Earlier this month, a team of eleven and twelve-year olds participated in Destination Imagination's Show and Tech Division at Oregon's State Destination Imagination competition. Upon completing the event, team DA SOS Peepo had secured a spot to compete at the final event of the season in Tennessee at Global Finals next month.
The Gorge five-member team is made up of Zane Gardner, Leif Hauge, Bodi Hill, West Landi, and Joel Roth. The group represented both the greater White Salmon area and Hood River. The boys formed a team for the first time this year as part of their homeschooling curriculum.
Destination Imagination (DI) is a competition that poses STEAM (science, technology, engineering, arts, and mathematics) challenges, which urge students to problem solve by using the creative process. Participants are tasked with utilizing what they've learned in school alongside free thinking.
The DI organization is a non-profit educational program led by volunteers, and formerly known as Odyssey of the Mind. Teams that succeed beyond the regional and state tournaments are invited to participate in Global Finals, where they can compete with teams from all over the world.
Each year, the organization releases challenge programs to encourage teams to work together. Challenges are broken up in to eight categories, which teams then choose to compete in. The categories include: Instant Challenge, Early Learning/Rising Starts, Service Learning/Project Outreach, Improvisational, Fine Arts, Engineering Challenge, Scientific Challenge, and Technical Challenge.
"It's a program that helps you work on collaborative thinking and stuff," explained Joel, who spoke with The Enterprise last week alongside his teammates.
Zane, Leif, Bodi, West, and Joel decided to take on the Technical Challenge, or Show and Tech.
The challenge was made up of a few key components: teams had to present a play with an opening and headlining act, design and build a stage where the team must move a team member from one end of the stage to the other, enhance each act with technical effects (at least two), and create and present two team choice elements that show off the team's interests and skills.
"The less direct human involvement, the more points you get," said Zane. Together, DA SOS Peepo formed a script about an apocalyptic world where their hero crashes into a mountain on his way to the troposphere.
Keeping the requirements in mind, the team decided to use a Nordic Track and a pulley system to pull Zane across the stage on a makeshift sled with wheels. While Zane was being pulled across the stage, Joel narrated Zane's character trying to ascend the mountain after his plane crash.
"We also had to have two technical effects, one of them was a projector and we also had sound effects," Leif explained.
Bodi, West, and Leif used sounds and an overhead projector to illustrate the plane crashing. By using cut out shapes, the team projected silhouettes of a calamity during their skit, which needed to be performed within the eight minute time limit.
Everyone on DA SOS Peepo agreed that they had their ups and downs during the whole endeavor. There were tales of forgetting portions of the set before a competition, making last minute edits to the script, and general disagreements between teammates.
"You have to have fun and stay focused," explained Bodi. "Everybody has different skills," Leif added, "I'm more of a builder, and Joel likes doing the script and that kind of stuff. Without him I think there wouldn't be that much fun."
The ultimate lesson everyone said they learned was how to collaborate, and how to work through differences of opinion.
After the team finished the regional competition earlier this year, everyone went home without attending the award ceremony, since no one knew they needed to stay.
"After the regional competition, we didn't find out until two weeks after the competition that we made it to state," said West. At that point, the team had already disassembled their set. Once learning they had made it to the next round, DA SOS Peepo went into over drive to put together a new stage.
"We're kind of the jokesters," said team manager and parent Marni Gardner. "They didn't know to be nervous for either competition at all."
"We probably did about as much work as all the teams did, we put about as much time into it, we had like a five hour meeting like four times a day," West added. The team is now making some adjustments to their current setup in preparation for Global Finals at the end of next month.
At Global Finals, DA SOS Peepo will compete with the top 5% of 150,000 global participants from Kindergarten to age 20. Teams will show from more than 30 countries for the four-day event that's packed with workshops, seminars, and memorabilia exchanges.
Zane, Leif, Bodi, West, and Joel plan to make some tweaks to their skit in the meantime, but the one thing that everyone strongly agrees on is that they're really excited to compete again.