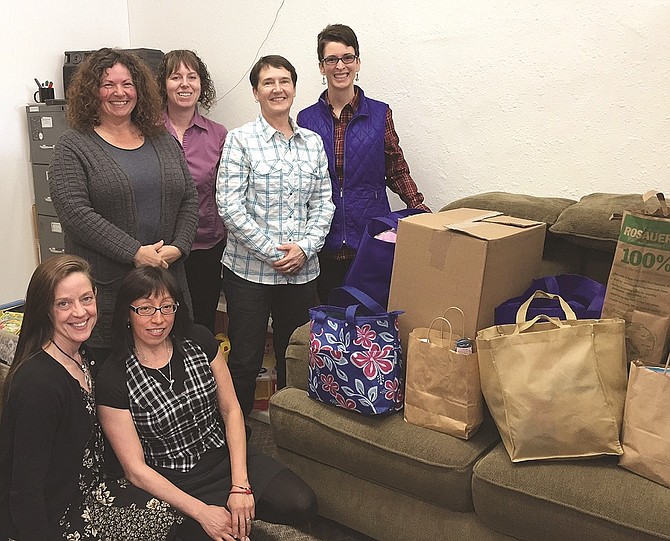 Non-profits in the Gorge have gained another ally with Columbia Gorge Women's Action Network recently stepping up its community outreach game. The group has decided to distribute monthly collections of donations to a chosen non-profit.
This month, CGWAN members gathered donations to give to Washington Gorge Action Programs' (WGAP) Programs for Peaceful Living located in Bingen.
The group started the tradition last month with its first donation to a Gorge non-profit. Last Thursday, CGWAN members Ingrid Saxon and her wife Tina Genoff dropped off the organization's second round of donations to Programs for Peaceful Living Coordinator Kirstin Poole.
"It was a pretty awesome response, because we had bags of toiletries and clothing, and a woman is donating a computer," explained Saxon. "And then some people did cash and gift cards too."
The group gathered donations over the course of one evening after a regular CGWAN meeting. "We put it on our Facebook page over a week in advance and I sent out an email to our Community Outreach group and then to the other group leaders, and word spread," Saxon said.
This month's donation was chosen from a list of non-profits CGWAN the group has cultivated through research and word-of-mouth. Saxon says the group is actively looking to expand its list of local non-profits to reach as many groups as possible.
"We're pulling from that list of nonprofits, then as a group we'll be discussing it," Saxton explained. "Everybody has a cause close to their heart."
In future, if members of the community want to donate to the non-profit of the month, contact CGWAN through its Facebook or web page at cgwan.org to find out when, where, and what to donate.