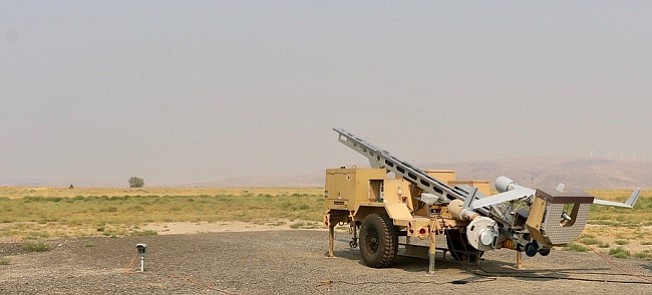 By KEN PARK
The Enterprise
kpark@whitesalmonenterprise.com
"Pioneer, Perform, Unite and Care. These are the four pillars that shape Insitu as a company." - Ryan Hartman, CEO.
Aug 2 marked an important day for the biggest employer in the Columbia River Gorge, as its logged its one millionth total flight hours for its ScanEagle Unmanned Aerial Vehicle (UAV). The one millionth hour was recorded during project Blackjack, on expedition with the 22nd Marines.
Founded in 1994 by aeronautical engineers Dr. Tad McGeer and Andy Von Flotow to develop a system for long-range weather reconnaissance, Insitu has come a long way in the past 23 years — the ScanEagle program, in particular.
ScanEagles are "descendants" of the SeaScan, a UAV developed to aid commercial fisherman track and locate schools of fish and was the first UAV to fly across the Atlantic in 1997. In partnership with Boeing, Insitu introduced the ScanEagle as an Unmanned Aerial System (UAS) for battlefield surveillance in 2004 during the Iraq War. Boeing would go on to acquire Insitu as a subsidiary company in 2008.
ScanEagles are about about four and a half feet long, have a 10-foot wingspan, and weigh about 45 pounds. Equipped with built-in, high-quality telescoping infrared cameras, the ScanEagle, like other Insitu products, is not weaponized, which is a common point of concern when discussing UAVs.
To mark this milestone event, Insitu invited members of the press out to Arlington, Ore., where one of its flight test spaces is located, for a demonstration on how the ScanEagle is launched and landed.
"What makes Insitu UAVs, ScanEagle, Integrator, and RQ-21 Blackjack, different is they are runway independent, meaning they don't need a take-off or landing strip," said Bronson Ignacio, one of Insitu's UAV pilots.
ScanEagle uses a launcher called a "superwedge" to take flight. If you can imagine the pull-back coil on a pinball machine, it's a similar concept. It's the landing, or rather, the catching system developed by Insitu that has garnered much of the attention. It's called a "skyhook," a 30- to 50-foot pole with a shock absorbing rope that is grabbed by a hook on the tip of a ScanEagle wing. Impressive GPS systems in the pole and the ScanEagle itself guide the UAV to its landing.
"The easy part is flying; it's the care and the split-second decision making that's hard," said Ignacio.
Most of the UAV pilots have a military background, but not all of them have pilot or UAV training. To become a UAV pilot, candidates attend an eight-week course on how to fly and care for the UAVs, then spend three months in field training which would be anywhere in the world.
Speaking at Insitu's Bingen office on Steuben Street, Hartman described one such incident that was a perfect example of a split-second decision in which a ScanEagle pilot saved many lives.
"I can't give too many details, but the pilots were covering a mission with the Marines. Everything had gone really smoothly and the pilots were getting ready to guide the Marines out of this area, when one pilot saw a vehicle headed their way at an alarming speed. Normally there are protocols to go through when they spot something; in this case there was no time, so one of the pilots made the call 'C.I.E.D' and the speeding vehicle hit the Marine vehicle and exploded. The pilot waited for a while and then heard the all clear on the ground. Because of the pilots' call, the Marines had time to get out of the vehicle and take cover," said Hartman. "A few months later we get an anonymous letter thanking us for our products, because they saved a person's life. Rather, as they put it in their letter, 'changed the course of history.' That is our goal as a company; to have a positive impact on people's lives."
Insitu has certainly had an impact and changed the lives of many people here in the Gorge. As mentioned before, it's the largest employer in the area.
"We are fully aware of the impact our growth as a company has had on the Gorge and are working with local governments and business to see what we can do to contribute to the community, whether it be employment, education, housing, health, or business," said Tammy Kaufman, Insitu's Community Relations coordinator.
One of the newest things Insitu has done is implement two transportation systems for those that work in their Gorge offices in both Bingen and Hood River. Starting at the end of April, Insitu introduced a bus program called Eagle One to transport its employees who live outside the Gorge to work in the morning and home in the evening. The idea came from the employees themselves and had been top issue for the Facilities department for a few years.
"The large charter bus is for people in who don't live in the area, whether that's due to availability and affordability of housing. It currently goes as far west as Vancouver and as far east as The Dalles. The bus is wifi enabled so people can get to work right when they get on the bus and not have to lose time commuting otherwise," said Facilities planner Maya Sullivan.
The charter bus makes multiple stops along the way as Insitu employees are spread out up and down the Gorge.
"We also have the smaller shuttle bus that moves our employees around from our different Gorge facilities called BART, or Bingen Area Regional Transport," said Sullivan.
"Having this transportation situation up and running is really exciting for us, especially as we begin to discuss further expansion, potentially into Portland," said Jenny Taylor, Insitu's director of Infrastructure Management.
Both Taylor and Hartman made it clear that Insitu will always be headquartered in the Gorge due in part to the company's success being rooted in the community itself. However, they have recognized that in expanding east and west, Insitu can relieve some pressure on the housing situation in Gorge.
Insitu has multiple locations throughout the United States, as well as around the world, and fully recognizes its impact on those communities and strives to be part of those communities not just as a company but as citizens.
"We want to thank you for coming and celebrating this historic occasion with us, as well as thank the communities you serve for their support," said Hartman, closing out the day's events.