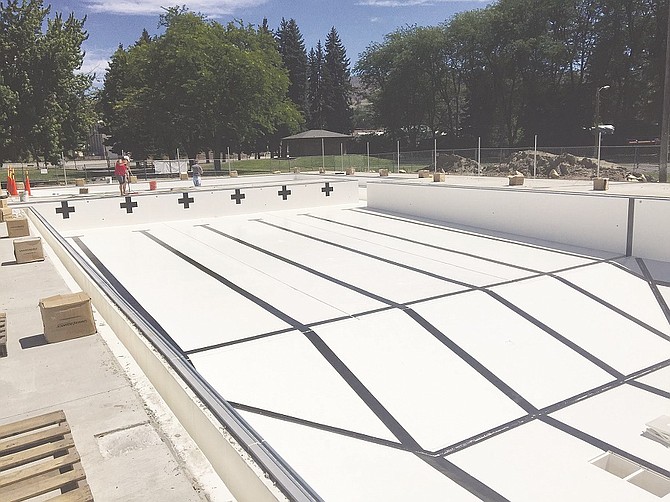 By SVERRE BAKKE
The Enterprise
sbakke@whitesalmonenterprise.com
The White Salmon City Council is jumping feet-first into its investigation of a design/build swimming pool project as a replacement for the outdoor pool off NW Washing-ton Street.
Councilors were expected to approve a council field trip on Aug. 28 to Tonasket, in the north-central part of the state. The City of Tonasket (pop., 1,200) recently completed a design/build outdoor project through a community partnership that relied heavily on volunteers.
Last month, Mayor Dave Poucher and City Administrator Pat-rick Munyan visited the Ellensburg company that designed and built Tonasket's pool, WMS Aquatics, and met with its president, Wayne Smith.
WMS Aquatics, according to its Web site, was founded in 1972 as a family-owned and -operated pool equipment supplier and design/-build contractor for the municipal and commercial pool industry.
"I think the meeting went very well," Poucher said. "The plans our pool committee proposed are very similar to the Tonasket pool. We said we wanted a diving board; his question was, did we want a springboard or a 1-meter board. We said we wanted a springboard. He asked that question because that determines the depth of the pool."
Poucher said Smith "liked our pool design but he suggested we might make it a bit wider. He also suggested an additional zero en-trance pool with a bench so students could sit and wait while instructors call them. This pool would connect to the main pool."
Additional suggestions from the pool consultant included a wheel-chair lift that would access the main pool, and that the bath house be constructed of the same material as the pool, to make cleaning easier.
In its design/build projects, WMS Aquatics uses a product that snaps together like Legos, said Poucher, with a hard finish over the top that is good for 10 years, then reapplied. The pool is drained every fall. The filtration system allows for the three filters to be back-washed individually; two filters remain in operation as one is being cleaned.
"The City provides the hole dug, he will fill it in. The City removes the existing building, he will build for $1.2 million," Poucher said.
That answer came in response to a question from Munyan: "What would this cost to build in White Salmon paying prevailing wages, turn key, including training the operators, all mechanical, bath house, decking, fence, spring board?"
Munyan said the city probably could not start construction until fall of 2018 or even as late as spring 2019.
"[Pat] said, barring any dramatic changes to the economy, [the cost would be between] $1.2 and $1.5 million, including contingencies," Poucher recalled. The city has approximately $700,000 in pledges toward a replacement pool.
Smith told The Enterprise "the biggest snag I see for White Salmon's project is it's down the road. The budget we get today may be higher two years from now."
He said delay only adds cost to a project. "The sooner they decide to go, the more money they will save" in cost of materials and components, he noted, indicating a design/build project takes 12-15 months, start to finish, depending on an entity's level of readiness.
Smith added, "Tonasket had a superb team who did a lot of work and saved a lot of money, but relying on volunteers delayed the project a bit."
Construction began in April 2016 and the pool about 15 months later, "just to give you an idea," said Smith.
"There was a lot of participation from a lot of different folks. It really brought the community together," Smith said of the pool project.
Tonasket formed a non-profit association of concerned citizens to develop the project. According to the Tonasket Swimming Pool Association's Web site, the group raised more than $967,000 from private donors in a little over two years of fundraising. The six-lane, 25-yard pool opened on July 22 of this year.
The old Tonasket pool became unusable in 2011 and closed after 61 years of operation. That pool's systems could not be repaired so the pool had to be replaced.
The Tonasket Swimming Pool Association's challenge was "To build and ensure the maintenance of a new swimming pool and bath house for our community."
The cost of the new pool and bathhouse was an estimated $1.25 million. The pool is owned and managed now by the City of Tonasket. A regional Parks and Recreation District formed in November 2015 supports pool/parks maintenance with a 15 cents per $1,000 property tax levy.