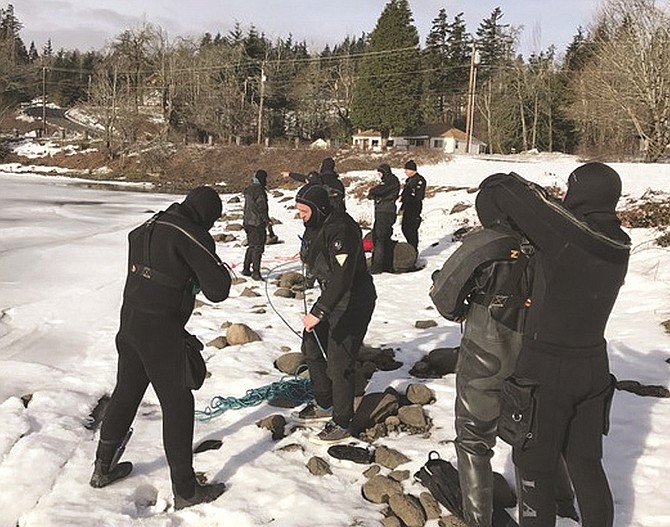 Warning – danger thin ice. Public Safety Officials throughout the Columbia River Gorge would like to remind everyone about the dangers of our frozen lakes, rivers, and ponds.
During this time of year, everywhere you look, you will see some type of water that has been frozen over. Even after a long freeze it is impossible to tell how thick or safe the ice may be. Ice is very unpredictable. It may be several inches thick in one spot, then just a thin layer a few feet away. Officials would like adults to take some time to educate your children to keep them safe and off the ice.
In 1990, at a high Sierra Mountain Lake, seven people drowned while attempting to rescue children who had fallen through the ice. Witnesses described the scene as a dramatic and ultimately futile effort to rescue the victims, in what ranks among the worst tragedies of its kind in the United States in at least a decade.
This past weekend, 10 members of the Skamania County Sheriff's Office Dive Rescue/Recovery Team honed their skills in Rock Creek Pond in Stevenson. Ice rescues takes specialized training and equipment in order to conduct a safe and successful rescue. "In the event you come across someone who has fallen through the ice, call 911 immediately, stay calm, be a good witness, and don't make the situation worse than it already is. It is always encouraged to let trained emergency service professionals handle the situation," said Sgt. Arne Gonser, Skamania County Sheriff's Office's Dive Rescue/Recovery Team Leader.
For those venturing on to ice for recreational purposes, Washington Department of Fish and Wildlife has information available for staying safe on frozen water. Check it out, before you head out.
More like this story