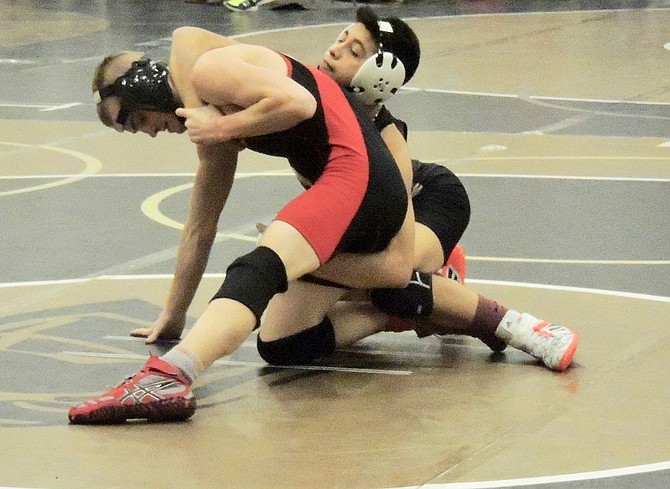 Three Columbia High wrestlers will be returning to the Mat Classic in Tacoma for the second year in a row.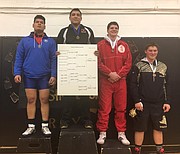 Senior Fletcher Andrews and juniors James Bell and Alex Medina will be pursuing their first state individual placings at the Tacoma Dome when the meet gets under way Friday morning.
Andrews secured a spot in the 138-pound weight bracket by finishing second last Saturday at the WIAA Region 3 Tournament in Royal City. He placed second at the regional meet last year at 132 pounds.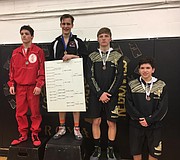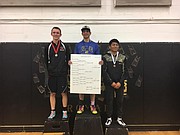 Bell and Medina earned regional championships at 145 and 220 pounds, respectively. Bell went to state at 138 pounds in 2016, while Medina is a repeat qualifier at 220 (he was the regional runner-up a year ago).
All told, the top four wrestlers in all 14 weight classifications secured state berths.
Junior Myles Moon missed out on a state berth at 120 pounds by one position. He will go to state as an alternate.
Freshman Payden Webster placed sixth at 106 pounds in his regional wrestling debut.
Andrews, a fourth-year wrestler, opened his Region 3 tournament with a pair of wins by major decision. He lost the 138 championship by decision to Flavio Sandoval, of Kiona-Benton.
Bell pinned his first two opponents, then tallied an 8-2 minor decision over Castle Rock's Wayne Baker in the title bout.
Medina only needed two matches to lock up his second state berth. He won his semifinal by minor decision, then pinned Martin Dominguez, of Warden, to claim his first regional championship.
Friday's Schedule
Wrestling starts at 10 a.m. with 106-pound bracket and concludes at 8:58 p.m. with 285-pound bracket.
Fletcher Andrews vs. Andre's Vasquez, sr., Hoquiam, 11:28 a.m. Winners wrestle in quarterfinals at 4:50 p.m., Losers in consolation round at 4:58.
James Bell vs. Braden Wirth, sr., Medical Lake, 11:36 a.m. Winners wrestle in quarterfinals at 5:06 p.m., Losers in consolation round at 5:14.
Alex Medina vs. Bryan Mendoza, jr., Chelan, 1:12 p.m. Winners wrestle in quarterfinals at 6:42 p.m., Losers in consolation round at 6:50.
Saturday's Schedule
Semifinal and consolation matches begin at 10 a.m.
138 bracket semifinal matches begin at 10:50 a.m.
145 bracket semifinal matches begin at 11 a.m.
220 bracket semifinal matches begin at noon.
Girls Wrestling
Hailey Johnson, Danielle Jeter, and Aryah Nelson traveled to Aberdeen last Saturday for the WIAA Reg-ion 3 Tournament.
Johnson, a sophomore, won one of three bouts at 135 pounds but did not place.
Jeter and Nelson, both freshmen, were eliminated after two rounds.