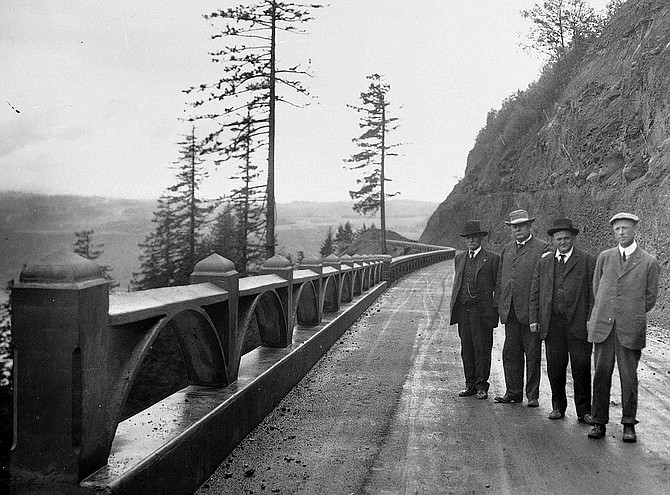 The public is invited to the premiere of "King of Roads," on Friday, Feb. 24, at Columbia Gorge Discovery Center & Museum, 5000 Discovery Drive, The Dalles. Doors open at 5:30 p.m. Dinner will be served at 6 p.m., followed by the 7 p.m. program.
The 47-minute film is a feature documentary produced by John Hardham and Michael Friend of Laughing Deva Productions, in honor of the 100th anniversary of the Historic Columbia River Highway (HCRH).

"King of Roads" reveals the vision of Sam Hill and Samuel Lancaster, who viewed the Columbia River Gorge as a work of art.
Producers John Hardham and Michael Friend bring to life the stories connected to the historic highway from its beginning in 1913 and future issues facing the reconstruction of the road into the Historic Columbia River Highway State Trail.
Friend said, "We started about four years ago. Most of the principal photography was done in 2015, but a lot was rewritten and reshot in the summer of 2016."
The film features local actor Tom Burns in the role of Sam Hill, while Joe Garoutte portrays Samuel Lancaster, Hill's road engineer. "King of Roads" is hosted and narrated by long-time Hood River County Administrator, Dave Meriwether. The feature includes interviews with local Gorge residents, who share stories of living along the highway and their efforts to reconnect the road into a State Trail.
Interviews include Joan Caruso Smith, who lived at Viento as a child, helping her parents operate an auto camp along the original highway.
Hood River native Bill Pattison's family lived in the home which is now the Stonehedge Restaurant. Pattison is one of the original members of the historic highway Steering Committee, the group largely responsible for overseeing the restoration of the highway.
Mike Byrne is a stonemason involved in the restoration of stone monuments and railings along the highway.
Rip Caswell is a sculptor from Troutdale who created a statue of Sam Hill and Sam Lancaster that stands alongside the highway.
Cost for the dinner and program is $16, the program only is $5. Tickets may be purchased by calling 541-296-8600 ext. 201. Reservations are required by Feb. 22.