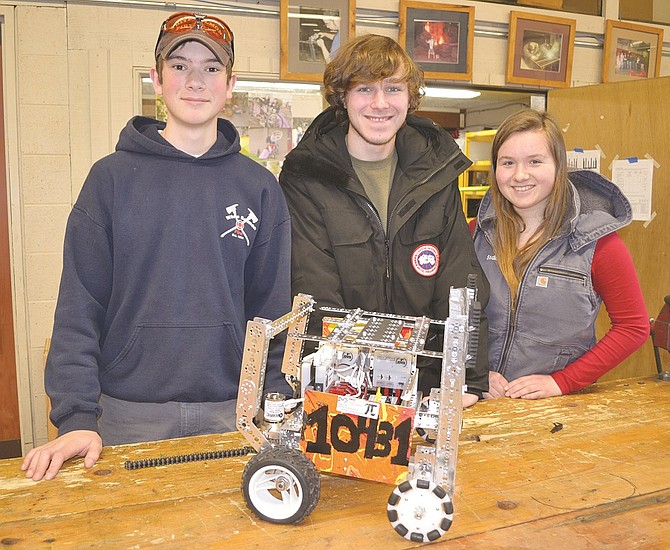 Learning from last year's trials, Columbia High School's Robotics team finished their robotics season with a dose of success.
One of CHS's three robotics teams finished first during last month's regional qualifier tournament at Hood River High School. The Mechanicals then qualified to compete at the region Super-Qualifier Tournament at Hillsboro High School, Ore. The team competed last weekend and finished mid-pack.
The Mechanicals consisted of seniors Sadie Hipskind, Calvin Kane; junior Canyon Willey, and freshman Crimson Willey (not present for interview). This year's robot turned out to be a "big improvement" from the previous season's model.
During the 2016 Regional Tournament, The Mechanicals' robot 10431 experienced some electrical problems rendering it inoperable for the beginning of the tournament. In the end, the team placed 24th out of 24 teams.
To get a running start on the 2017 robot, The Mechanicals met after completing the 2016 season to brainstorm. "Last year before the school year ended, we created a very basic shell, or skeleton of a robot," said Willey. "So, this year we could be ready to build on to it for the challenges, because we don't figure out the challenges until the start of the school year."
The challenge wasn't the only change for the CHS robotics team. Instead of competing as one team of 12, students broke up into three teams within the club, which is how The Mechanicals formed. Teams picked themselves which allowed for Hipskind, Kane, and Canyon and Crimson Willey to work together.
"The three of us have always been pretty good friends," said Hipskind. "We all get along pretty well so that really helps."
Everyone agreed that compared to last year the team experienced more success against competitors. "We did a lot better," Canyon Willey said. "Smaller teams really helped, because you could get your hands on [the robot]," Hipskind added.

With their smaller group, the team got down to business. "We could focus on one idea instead of having everyone wanting to do their own ideas," said Kane.
For The Mechanicals, the focus of their robot was simplicity. "We tried to keep it more simple, so it would work more often than not," said Hipskind.
"That was one strength of our robot," Willey added. "A lot of the bigger robots that had a bunch of moving parts were breaking and not working the way they were intended too, and our robot worked how we wanted it to work every time."
The Mechanicals designed their robot around the challenge presented by For Inspiration and Recognition of Science and Technology (FIRST). This year, competitors worked in teams of two to move balls around a designated area. Teams were awarded points if their robots could place balls in corners, or score them in baskets.
Extra points were also awarded to teams whose robots captured light up beacons by switching the light to their team's color.
"The game was called velocity vortex," Hipskind explained. "Our main goal was going for beacons that light up. You could also score balls into a ramp or throw balls- I like to describe it like a mix between basketball and soccer."
During last weekend's Super-Qualifier, Hipskind, Kane, Canyon Willey, and Crimson Willey competed against 45 other teams for one day of the two-day event. In total, the meet was a two-day affair with 90 teams competing.
Willey noted that their team didn't run into any major problems during the Super-Qualifier. Kane added that a few altercations to prevent balls from landing on top of the robot were made before sending it out on the floor.
The competition was chaotic and busy, with various matches going on at the same time. Teams were randomly assigned to work with another team, which would then go head-to-head against two other teams working as one.
Compared to other robots, The Mechanicals' wasn't quite as compact. "Ours wasn't small, ours is big, but it's not very compact," said Kane. When comparing their robot to others, Kane said their simple approach meant less hardware in the robot's interior.
"We did pretty well, we won a couple matches," Hipskind noted. The team wasn't sure how they placed overall but figured somewhere in the middle of the competition- which didn't land them a berth to state, but got them a lot of competitive experience.
Overall, the team said they were pleased with their season. Next year, Hipskind plans to study industrial technology at Central Washington University. Kane says he'll attend Western Washington University and pursue engineering.
Canyon Willey and his younger sister Crimson Willey will hold the torch, and lead the team to another successful season in 2018.