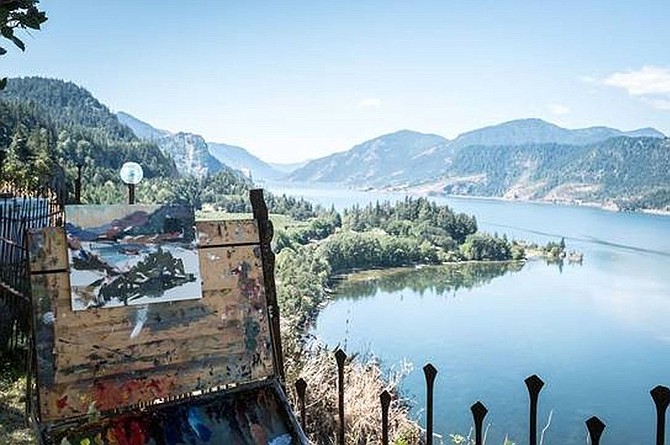 This summer Maryhill Museum of Art will host the 13th annual Pacific Northwest Plein Air event in the Columbia River Gorge.
The event begins July 31 with a four-day plein air paint out, followed by an opening reception Friday, Aug. 4, and an ongoing exhibit through Aug. 27.
Drawing on a long tradition of painting in the open air, this juried event brings together 40 artists to paint the vast, wild beauty of the Columbia River Gorge National Scenic Area, from stunning views of Mt. Hood and the Columbia River to the surrounding vineyards and snowy peaks of the Cascades. Participants include emerging and established artists from the Pacific Northwest and from around the country.
Between July 31 and Aug 3, artists will fan out to paint anywhere in the Columbia River Gorge National Scenic Area; they will also be invited to paint on Maryhill's grounds, giving museum visitors a unique view of plein air artists at work.
"Thirteen years ago, there were no plein air events here—none," says event founder and painter Cathleen Rehfeld Meyers, who lives in the Columbia River Gorge. "That was my idea for starting this event. The area was completely untapped. It's an amazingly beautiful place, with an incredibly diverse landscape to paint."
An opening and artist reception will take place Friday, Aug.4, from 5 to 8 p.m. at Maryhill Museum of Art, when the public is invited to view and purchase "fresh" paintings and meet the artists. The paintings will remain on view and for sale in the Maryhill's M.J. Murdock Charitable Trust Education Center Maryhill through Sunday, Aug. 27.
The juror for the 2017 event is painter Mike Hernandez, a California-based plein air artist and sought-after workshop instructor, who will award prizes in 17 categories.
A full list of participating artists is available at www.maryhillmuseum.org/pleinair
July 31 – Aug. 3, all day
Pacific Northwest
Plein Air Paint Out
Artists spend four days painting at various locations throughout the Columbia River Gorge, including on the grounds of Maryhill Museum of Art.
Opening Reception
Friday, Aug. 4
5 to 8 p.m.
The public is invited to view the paintings artists created in plein air, meet the artists and enjoy wine and hors d'oeuvres.
Artwork will be available for purchase. Awards will be given in a number of categories, including "Best Sky," "Best Mountain," "Best Water," "Historic Columbia River Highway Award," "Maryhill Museum Award" and a museum purchase award.