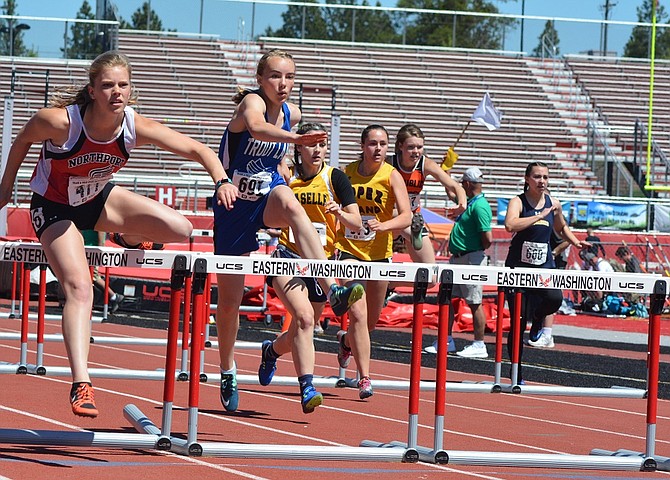 The competition at this year's state 1B/2B/1A track and field championships in Cheney proved to be as stiff as its ever been for Klickitat County athletes.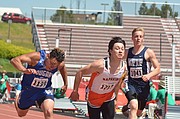 Only Brandon Montoya, of Lyle/Wishram, won an individual title at the 2017 small-school meet at Eastern Washington University.
In fact, the L/W freshman phenom won two events and finished second in a third during his state debut last weekend.
Montoya won the 2B boys 200-meter dash on Saturday in a personal-record time of 22 seconds flat, after finishing second earlier in the day in the 100 final. (The Cougar sprinter set a PR of 10.89 in winning his 100 qualifying heat on Friday.)
Montoya placed first in Friday's long jump competition with a PR mark of 22 feet, 2.25 inches.
L/W senior Alex Cloud picked up her third state javelin medal overall last Saturday when she placed sixth in the 2B girls javelin with a throw of 120-6. Cloud earned her previous medals in the 1B class.
L/W sophomore Sydney Rains set a PR of 16.88 in placing ninth in her heat of the 2B girls 100 hurdles.
Columbia High athletes got shut out of the medals in the 1A meet. Junior Alondra Casarez-Garcia established a PR of 16.09 in Friday's qualifying for Saturday's 100 hurdles final. She missed making the final eight by .05 seconds.
Trout Lake's girls team finished fourth in final 1B standings with 49 points. The Mustangs didn't win a single event but they piled up points in both running and field events. Sophomore Liz Fink posted the team's top finish of second in the javelin last Saturday. She opened with a PR throw of 120-5 and held on to second through the final round of throws. Fink placed third in Fri-day's shot put competition with a mark of 34-4.5. Freshman Sidney Becker finished third in 100 hurdles qualifying on Friday with a PR time of 16.80. On Saturday, she came in eighth after tripping on and falling over the last hurdles. Becker pick-ed herself up and completed the race to earn her first state medal. Becker competed in the 200 dash later Saturday and finished fifth in 27.52. The day before she placed fourth in qualifying with a PR time of 27.29. Senior Kya Fee collected medals in the 300 hurdles (4th, PR of 49.57) and high jump (8th, 4-8). Freshman Lillie Goodson logged a pair of PRs in her state debut. She took ninth in 800 qualifying in 2:37.31 on Friday and placed ninth in Saturday's 3200 final in 13:12.85. Eighth-grader Justin Peck had the highest finish for Trout Lake's boys. He placed second in Saturday's 1600 final with a PR of 4:47.78. He placed eighth earlier in the day in the 800 final after posting the fourth-fastest time in Friday's qualifying heats. The WIAA "changed the order of events this year and put the boys 800 one hour before the 1600. There is no way an athlete can recover and run a great 1600 if they give their all in the 800," said Mustangs Coach Steve Alla-way. "Since the WIAA refused to adjust the order of events, [Justin] was forced to take it easy in the 800 final. If you watched the 800 final you saw the four milers taking it easy and running in the back of the pack. Those that ran hard in the 800 didn't finish well in the mile." Junior Forrest Putnam ran the fastest 800 of his life, however, to take fourth in a time of 2:08.21. He was 12th in the mile. Hunter Wilkerson came away with the medal for seventh place in the 1B boys pole vault. The junior cleared 10 feet for a new PR in his first state meet.
Glenwood freshman Kev-an Bren established PRs in the 100 and 200 dashes last Friday at the 1B meet. Bren ran 12.05 in his 100 heat and 24.71 in his 200 prelim. In each, Bren was 12th fastest. Sophomore Kinley Troh vaulted to a personal-record mark of 28-3 in the 1B girls triple jump on Saturday.
Klickitat freshman Savannah Green threw the javelin 106-10 for a new PR and eighth place in the 1B girls javelin final on Saturday.