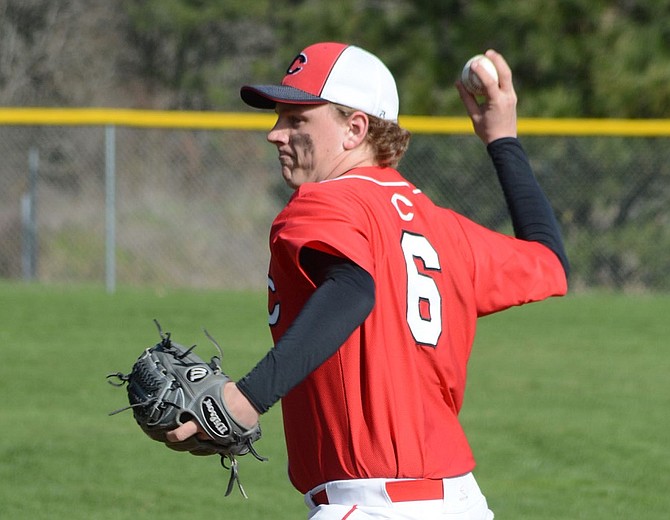 The 2017 Columbia Gorge River Bandits baseball will feature three All-Trico players in Columbia High sophomore OF Trenton Howard, who led the Bruins with 25 runs scored and 19 stolen bases; Columbia junior P/SS William Gross, who hit .530 and led CHS with a 3.28 ERA pitching during the school baseball season; and Stevenson senior Ryan Fielding, a two-time All-Trico selection at second base.
COLUMBIA GORGE RIVER BANDITS
2017 ROSTER
Player Position School Attended
1 William Gross P/SS Columbia
2 Payden Webster INF Columbia
3 Trenton Howard P/OF Columbia
4 Davis Koester P/UTL Trout Lake
5 Jordan Trout 3B Columbia
6 Adam Goodwillie P/INF Columbia
7 Tylan Webster C/UTL Columbia
8 Ryan Fielding P/2B Stevenson
9 Kyle Dean OF Columbia
10 Matt Changar C/3B Columbia
11 Shad Curtis OF Columbia
12 Alec Van Pelt P/INF Stevenson
13 Jarin Musgrove P/1B Columbia
14 Andrew Carlock C/UTL Lyle
15 Sean McMahon P/OF Trout Lake
16 Zack Petit OF Columbia
17 Trevor Cooper C/1B Columbia
27 Brandon Connell P/OF Stevenson
The trio will fill the River Bandits top three spots in the batting lineup and will be followed by CHS junior Tylan Webster (.324, 18 RBI, 18 runs in 2017), who will play catcher and outfield, Stevenson sophomore Bran-don Connell, who will be called upon to pitch and play outfield, and CHS junior OF Shad Curtis (.296, 17 runs, 15 RBI in 2017).
Stevenson sophomore Alec Van Pelt, Lyle sophomore Andrew Carlock, Trout Lake freshman Davis Koester, CHS juniors Jarin Musgrove and Adam Goodwillie, and CHS senior Matt Changar will fill out the rest of the order.
Reserves include CHS sophomores Zack Petit, Trevor Cooper, and Jordan Trout, CHS freshman Pay-den Webster and Trout Lake freshman Shawn McMahon.
The River Bandits are coached by CHS head coach John Hallead and CHS assistant coaches Tony Guler and Chad Myers.
The team opens its season this Saturday on Hecomovich Field. The first game of a scheduled double-header starts at 3 p.m.
Pitching
Goodwillie, Connell, and Gross will round out the starting pitching rotation this summer. Koester, McMahon, and Van Pelt will also see some spot starts throughout the month-long summer season.
Musgrove and Howard, along with Koester, McMahon, and Van Pelt will fill out relief pitching duties.
Goodwillie threw 64 innings during the spring high school campaign, going 5-4 with a 3.61 ERA and 30 strikeouts.
Gross tossed 36.1 innings, going 6-2 with 27 strikeouts. Connell was Stevenson's ace pitcher this past spring.
Goodwillie relies more on movement pitches and is very accurate and precise with pitches, where Connell is a power pitcher who likes to pound the strike zone with good velocity pitches. Gross is a mixture of the two, throwing a very good breaking pitch and displaying power pitches when needed.
Catcher
Changar, Webster, Car-lock, and Koester will all see action behind the plate for the River Bandits.
Changar caught 15 games for CHS in the spring and Webster caught the remaining six games. Carlock and Koester are utility players that can play anywhere on the field.
Changar will catch for Gross, Webster for Connell, and both will catch for Goodwillie. Koester (.231, 12 RBI in 2017) and Carlock will be used in games scheduled for younger, res-erve players.
Changar (.246, 15 RBI in 2017) brings a cerebral aspect behind the plate: he's able to call a game and lead the team.
Webster's athleticism and arm strength will be big assets behind the plate, and Carlock and Koester's versatility will enable the River Bandits to not lose a step regardless of who is behind the plate.
Infield
At first base, Musgrove (.275, 15 runs, 7 RBI in 2017) will man a corner position as the River Bandits only true first baseman. Goodwillie and Carlock will see time at first as well.
Musgrove was an honorable mention All-Trico selection, and many coaches in the Trico believe he is the best defensive first baseman in the league.
At second, Fielding will get a majority of the reps, as will Gross at shortstop. Fielding and Gross both are planning on playing baseball at the junior college level, and the combination of Fielding and Gross prove a very good defensive middle infield.
Van Pelt, Koester, Goodwillie, Carlock, and Payden Webster will also see time at the middle positions, giving much needed depth when Gross pitches.
At third, a combination of Changar, Van Pelt, Trout, and Carlock will man the hot corner. Changar was a three-year starter at third base for CHS before switching positions to catcher during his senior campaign.
Van Pelt was a starter for Stevenson's varsity and has displayed very good athleticism and arm accuracy. Trout, who started a handful of games at third for CHS varsity last spring, is developing into a potential everyday starter at third base.
COLUMBIA GORGE RIVER BANDITS
2017 INDEPENDENT BASEBALL SCHEDULE
June 10 vs. KWRL Roosters (2), Hecomovich Field, 3 pm
June 11 at KWRL Roosters (2), La Center HS, 1 pm
June 16-June 18 at KWRL Broken Bat Father's Day Baseball Tournament (4), Fort Vancouver HS, Time TBD
June 22-25 at Yakima Valley Peppers Tournament (5), Selah HS; First games on June 22 are at 12:30 pm and 3:00 pm
June 26 at Yakima Valley Peppers (2), Selah HS, 12 pm
June 30-July 3 at Spokane/Coeur d'Alene Tournament (4+), Time TBD
July 5 at St. Paul, Ore. (2), St. Paul HS, 4 pm
July 7-9 at Blaine Border Tournament (4+), Time TBD
TBD= To Be Determined
(2) = Double-header; (4/5) = Number of games possible
Head Coach: John Hallead
Assistant Coaches: Tony Guler and Chad Myers
Official E-mail:​ ​cgrbbaseball@gmail.com
Official Twitter:​ @GorgeBandits
Outfield
Curtis, Howard, and Connell will see a majority of time in the outfield for the River Bandits. Tylan Webster, Petit, and McMahon will also man the outfield positions.
Curtis and Howard made up one of the best defensive outfields CHS Baseball has had the past couple of years, both displaying excellent speed, range and an ability to run down fly balls.
Connell has the strongest arm in the outfield and Webster's athleticism and speed will make the River Bandits outfield very deep in talent.