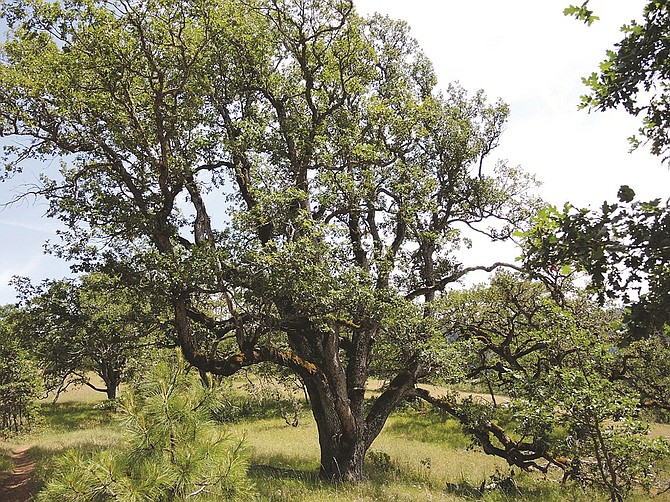 Friends of the White Salmon River is sponsoring a community trail party and hike on the Weldon Wagon Trail on Sunday, June 11. Participants will enjoy coffee and treats at the trailhead at 9 a.m. Bring your lunch, some water, and your helping hands to show a little love for this local gem of a trail. We'll be improving the tread and water bars, and clearing brush and rocks from the trail. We'll also be replacing the boot brush and its accompanying sign to help hikers remove seeds of potentially invasive plants before and after hikes.

No experience is necessary, but you'll want your gloves. Tools will be provided and we'll transport your lunch for you.
Beginning in 1911, the Weldon Wagon Trail was used to transport apples from the Snowden plateau to Husum during the "Apple Boom" days. The boom came to bust, and the road became disused. Although still a county trail, it has been abandoned as a road since 1923. Lately highlighted in regional press, the trail traverses a moderate ridge running east above Husum. This time of year, the wildflower show greatly enhances the always-stunning views of Mt. Hood and the lower White Salmon River Valley.

The trail and the land surrounding it drains to Indian Creek and Rattlesnake Creek, thus it is an important contributor to the quality of water in the White Salmon River. Friends of the White Salmon gratefully acknowledges the cooperation of the landowners, SDS Lumber, Columbia Gorge Timber Company, Washington Department of Natural Resources and Klickitat County. Additionally, Underwood Conservation District is providing tools and Twin Oaks Construction is helping with logistical support.
If you enjoy the Weldon Wagon Trail, and would enjoy learning more about the history and science of the area, please come to meet others and accomplish some improvements on Sunday, June 11, from 9 a.m. to 1 p.m.

We'll meet at the trail head, located half a mile up Indian Creek Road/Indian Cemetery Road junction with State Route 141, just east of Husum. Take SR 141 north from White Salmon, turn right just past Riverdrifters Rafting in Husum; drive east on Indian Creek Road, following event signs. Donuts start at 9 a.m. sharp. For more information, call Rani at 493-1507 or look up Friends of the White Salmon River on Facebook.
More like this story