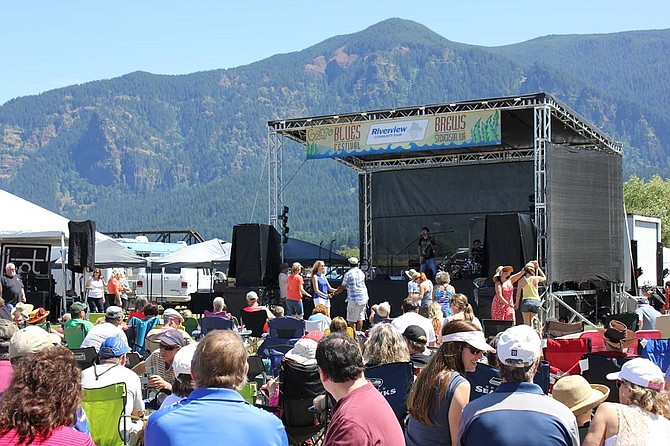 Mark your calendars now for Friday and Saturday, June 23-24, when Gorge Blues & Brews Festival hits the Skamania County Fairgrounds in Stevenson. Organizers will celebrate 24 years of musical genius, award-winning craft brews and fabulous food in the spectacular setting of the Columbia River Gorge.
Start your weekend off right on Friday night when organizers feature all things local from 6 to 10 p.m. Walking Man Brewery, Backwoods Brewing and Thunder Island Brewing will be pouring their tasty brews and there will be a nice selection of local wine. Tasty barbecue will be available, hot off the grill, from the Stevenson Eagles Lodge and Stevenson High School senior parents.
Bring your boogie shoes because some of the best of our home-grown musicians will have you on your feet all evening. Kenny Lee and the Sundowners and Big River Band will be on the stage.
Admission is free.
On Saturday, the festival is packed with excitement from noon until 10 p.m. It is a well-known fact that the best brews in the Northwest can be sampled at this festival so choose carefully – you will run out of room long before you run out of choices. 14 craft breweries will be representing the Pacific Northwest, from Stevenson to Seattle. If it is wine that you prefer, four of the best regional wineries will be pouring. Two cider houses will serve up their product including Stevenson's own Jester & Judge Cider and locally made whiskey may be sampled from Skunk Brothers Spirits. Several new seasonal releases will be featured at this year's festival so come prepared to taste a delicious beverage you have never experienced before.
Along with our traditional summertime entrees, we will have a multitude of phenomenal flavors to mix and match with your beverages including Greek gyros and baklava, exotic sausages, homemade pies and of course, barbecue.
"Blues" is the second word in our name and you will be able revel in continuous live blues music filling the air with bands on two stages. This year's line-up is impressive. The music will flow between Riverview Community Bank's main stage and the Big River Grill stage featuring Idle Poets, Ellen Whyte Trio, Mike Klinger Blues Band with Little Curtis, Billy D and the HooDoos, Robin Barret and the Coyote Kings featuring Tiphony Dames, Sister Mercy, Thunder Brothers and Franko Paletta. Hot off her win at the 2017 International Blues Challenge, Rae Gordon and the Backseat Drivers will finish out the night with a bang.
Admission is open to those 21 years and over only on both Friday and Saturday, no minors will be allowed on the festival grounds.
The cost for admission on Saturday is $20 per person and includes a commemorative beer mug or wine glass. A glass of beer will cost you $5 and wine depends on the variety, either $5 or $10.
Gorge Blues & Brews Festival is organized by the Stevenson Business Association. Call the Skamania County Chamber of Commerce at 800-989-9178 with more questions.