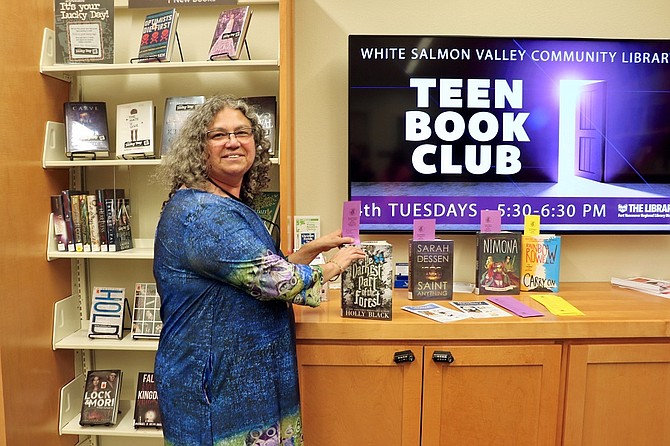 If you have ever had a conversation with a librarian, you most likely discussed books and more likely what books you or they enjoy. Well, when you talk to Ruth Shafer, the new librarian at the White Salmon Valley Community Library (as of June 1), she would rather talk about what books you don't like and why.
When asked what her favorite and least favorite books are she laughed and said her least favorite is J.R.R Tolkien's "The Hobbit" — "partly because I prefer historical fiction to fantasy, but also partly because I've had to read it so many times for programs. My favorite is 'To Kill A Mockingbird' by Harper Lee."
She continued, "See, this is why I like talking to people about what they don't like. People tend to have more to say about books they don't like than books they do like. When people like a book they just say, 'oh yeah, I liked it,' but when they don't like a book, they get really into why they don't, and I really enjoy hearing that."
After 23 years as a Youth Services Librarian and three years as a Public Services Manager at the Vancouver Community Library, Shafer decided it was time for a change of pace. She wanted to get back to being a librarian more than a manager and have more of a core connection with the community the library is a part of and actually meet and talk to people.
Shafer fell in love with the White Salmon area after visiting a few times and speaking with the former White Salmon librarian, Jennifer Hull, who retired at the end of March. Shafer jokes that she stalked Hull for the last five years waiting for the position at the library to become available.
What drew Shafer to the White Salmon Library first was not just the small community aspect, but the programs that it had for every age group. While in Vancouver she was responsible for coordinating dozens of programs every month. Programs like Makerspace, an afterschool STREAM, or Science, Technology, Reading, Engineering, Art and Math program for kids 4th-12th grades, as well as various Summer Reading programs for kids, teens and senior citizens.
Shafer was also drawn to the White Salmon Library because of its attention to the Spanish-speaking community. The library has a large inventory of books, movies, audiobooks and music in Spanish as well as attentive English and Spanish speaking staff members.
One of Shafer's goals with the White Salmon Library is to start an afterschool chess club as part of an expansion of the programs offered at the library. Shafer herself admits she is not a great chess player but she is a great chess teacher.
You can come meet Shafer on Tuesday June 20, from 4-6 p.m. at the White Salmon Library, 77 NE Wauna Ave., in Town and Country Square.