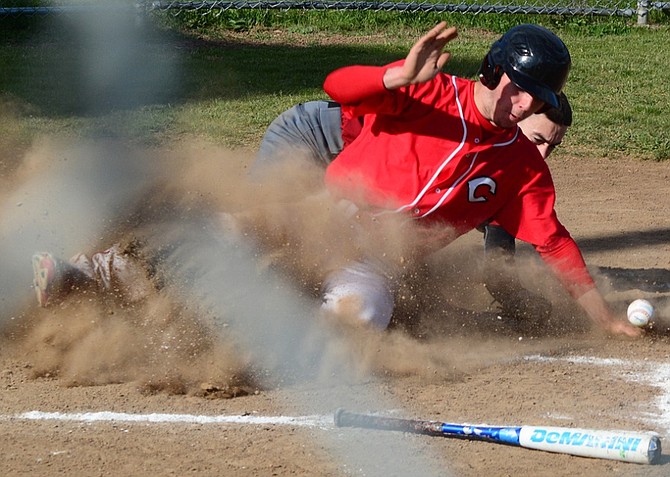 Hecomovich Field was almost snow-free on Monday. But, it snowed on Tuesday, so the field once again got some unwanted moisture.
Moreover, it meant the CHS baseball team's chance of conducting preseason workouts outside the confines of Miller Gym before its season-opener began to look like a long shot.
Tuesday's reminder that winter doesn't end, calendar-wise, until March 20 makes it hard to believe that the 2017 high school baseball season has arrived.
The Bruins open 2017 on March 11 at the Max Beatty Invitational Tournament in Vancouver, hosted by Fort Vancouver. CHS is scheduled to play two games that day, weather permitting.
If they take place, they will mark the Bruins' second outdoor practice of the year.
On Monday, "we got on the field for defensive work for an hour until rain and snow hit," Bruins Coach John Hallead said.
The Bruins were limited to bullpen pitching sessions and indoor practices in week one of the season. The lack of outdoor practices is holding the team back in some areas.
"I think the biggest effect will be lack of live pitching practice, defensive game simulations, like throwing to bases, line drive reads, fly balls, base running, etc.," Hallead said.
Because Hec Field is wet through and through, and other schools may be in the same boat, Hallead expects to see a number of postponements in the season's early days.
"I think at this point you will see a lot of cancellations, rescheduled games, and different practice schedules, Hallead said. "Although the snow will eventually melt, getting the water on the field to dry up will take much longer."
CHS returns six players who either started full-time or saw significant varsity playing time last season.
"We have high expectations for the 2017 season," said Hallead. "With five starters back from the 2016 season, and one of our leaders back from injury, the Bruins are looking to make waves in the 1A Trico League this year."
Senior Matt Changar will again play third base for the Bruins and bat in the middle of the order in his fourth varsity campaign.
"Changar is one of the hardest workers on the team and an excellent situational hitter," Hallead observed.
Also back is No. 1 starter Adam Goodwillie. The junior right-hander led CHS in virtually every pitching category in 2016.
Goodwillie posted a 3.79 ERA across 66 innings last season, with just 16 walks.
"He possesses excellent control and has the endurance to throw a complete game on any given day," Hallead said.
Junior William Gross returns at shortstop and will double as the Bruins' No. 2 starter (3.66 ERA in 29 innings in 2016).
Gross, who will hit second in the order, batted .273 a year ago, with a stellar .429 on-base percentage, and led CHS with 14 runs scored.
"Gross has the greatest plate awareness in the lineup, and is capable of getting on base frequently and scoring a lot runs," Hallead said.
Junior Tylan Webster is coming off a season in which he earned All-Trico Second Team recognition as a utility player. This season, Webster will be a permanent fixture in CHS's middle defense as catcher, a position he has played most of his baseball life to date.
Webster also will bat third in the order. His right-handed bat provided strong statistics in 2016 as he led the Bruins with a .347 batting average in 63 plate appearances.
The opening behind the dish was created by the graduation of two-time all-leaguer and three-year start-er Kyle Guler.
"Webster has the most power in his swing, capable of extra base hits and driving runners in," Hallead said. "In addition, Webster is perhaps the fastest Bruin in the program, and his speed and base-running awareness make him a dual-threat offensively."
Sophomore Trenton Howard is back for his second varsity season. He's playing left field this year and will bat lead-off. He hit .264 as a rookie in 64 appearances.
Hallead considers Howard CHS's primary base-stealing threat.
Junior Jarin Musgrove is taking over at first base and good spot in the batting order, following the graduation of three-year starter Kaleb Brasuell. Musgrove is in his second varsity season and adds a promising power bat to a promising lineup.
"Musgrove has the ability to be a big threat offensively with a powerful swing," his coach observed.
Junior Shad Curtis will roam center field this season because of his defense, but Hallead also noted Curtis "has shown signs of driving runs in with an electric bat."
Senior Austin Bucklin missed all of 2016 due to a right should injury that required surgery. He again is manning right field, giving the Bruins "a very athletic outfield defensively," noted Hallead.
As a sophomore, Bucklin hit lead-off and finished top-three in every offensive category for the 2015 Bruins.