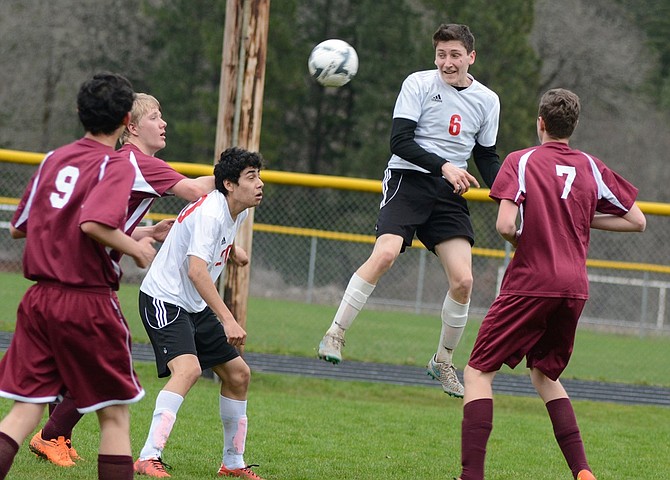 Columbia High sits atop 1A Trico League boys soccer standings after the opening week of action.
The Bruins won matches at Seton Prep (2-1) on March 21, in Camas, and against Stevenson (3-1) here last Thursday to make their record 2-0.
In their third outing at La Center last Saturday, the Bruins played the Wildcats to a 1-1 draw.
CHS was scheduled to open at home on March 18 against Highland but got postponed because the Bruin Stadium field was too wet and soft to be played on that day. That contest has been postponed to the last Saturday in April.
"After we learned that our first game versus Highland would be postponed until April 29, Seton Catholic be-came the motivator and I think our boys met the challenge head on," said first-year Bruins Coach Jaime Rivera.
A well-coached Seton Prep side presented Columbia with a tough matchup in a pounding rain on Doc Harris Stadium's field turf.
"I have not seen it rain so hard," Rivera noted.
Columbia conceded an early first-half goal to the Cougars, then weathered a 45-minute lightning and thunderstorm delay to pull out a win.
Jose Eudave scored off a penalty kick to even the score at 1-1.
Later, Brady Trullinger dropped in a scoring shot from 30 yards out to make it 2-1, CHS. Finn Coffin got the assist.
"I was impressed with our passing, considering we played on turf, and our competitiveness, seeing as we conceded an early first-half goal," Rivera said.
The Bruins cranked up the pressure defensively, and went on to dominate the second half. By Rivera's tally, CHS outshot Seton, 15-8.
Leo Guerrero logged four saves, and Federico Borgonovo recorded three.
"Overall, a solid performance," Rivera said.
Two days later, the Bruins hosted the Bulldogs in Bruin Stadium. It did not rain.
Eudave and Trullinger scored in the first half, and Columbia went into the intermission with a two-goal lead.
CHS scored a goal and yielded a goal in the second half for a final score of 3-1.
Trullinger and Erick Ramirez each got credit for an assist.
Guerrero and Borgonovo split time at goalkeeper, and combined for six saves.
"I was not surprised how tough the match ended up being for us because all of us are still trying to all fit in to a new program, with new expectations," Rivera said. "Additionally, Stevenson was on the back end of a 10-0 blowout loss and, according to the boys, there is somewhat of a rivalry be-tween CHS and Stevenson," Rivera said. That we won by a two-goal margin is an acceptable result."