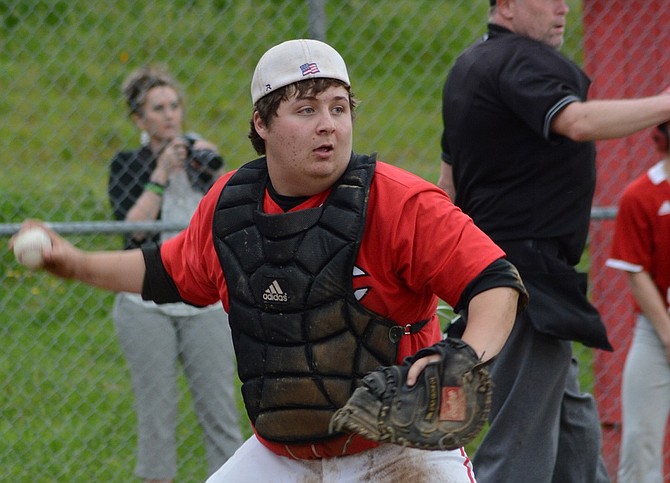 William Gross pitched a complete-game four-hitter and batted in three runs on Monday to lead Columbia High past Montesano, 7-3, in a first-round game of the Southwest District 1A baseball tournament.
The win put CHS (10-8) into a semifinal game on Tuesday against Castle Rock (13-7), in Castle Rock.
Tuesday's semifinal winners will qualify for state and play for the district championship on Saturday, May 13, in Castle Rock. The loser will fall into the consolation bracket of the double-elimination tournament.
Three berths to regional play next weekend are at issue. The contest for third place will be played on Saturday, May 13. (Check trico athletics.com for scores and scheduling updates.)
Columbia lost its three-game season series to Castle Rock, 2-1.
Monday's game, played at Olympic Stadium in Hoquiam, pitted the Trico No. 4 Bruins against the Evergreen No. 1 Bulldogs.
The Bruins led 2-0 after one inning, but trailed 3-2 after two. They regained the lead with three runs in the third, and tacked on two insurance runs in the sixth.
Gross allowed three runs via a dropped third strike, two hits (the second a two-out, two-run single), and a walk in the second inning, when the Bulldogs, but prov-ed efficiently stingy thereafter.
The junior right-hander surrendered singles in the fourth and sixth innings, and walk-ed a man with two out in the seventh. Another runner got on base in the fifth on CHS's only error. The Bruins' No. 2 starter also recorded two three-up, three-down innings.
Columbia finished with 11 hits; Gross, Tylan Webster, and Shad Curtis each tallied two hits, and five others had one base hit.
Gross drove in the game's first run with a run-scoring single in the first, and forced in two runs with bases-loaded walks in the third and fifth frames.
Trenton Howard, who tallied the first run and reach-ed base four times, collected two runs batted in: one with a bases-loaded walk in the third and the second with an RBI single in the sixth.
Howard led off the game with a walk and moved to second on a passed ball.
Gross singled him home. Webster followed with a single to put runners at second and first. Matt Changar's sacrifice bunt moved each runner up a base.
With two outs, Austin Bucklin knocked in Gross with a single to make it 2-0.
Curtis led off the third with a base hit, only to be neutralized when Bucklin hit into a fielder's choice for the first out.
Jarin Musgrove got hit by a pitch to give CHS runners at second and first. Adam Goodwillie reached on an error to load the bases for No. 9 hitter Davis Koester.
Koester responded with an RBI single that brought home Bucklin with the tying run. A walk to Howard forced in pinch-runner Kyle Dean. An error on ball put in play by Gross let Goodwillie score and push CHS's lead to 5-3.
An inning-ending a double play on a ball hit by Webster prevented the Bruins from breaking the game open.
After two scoreless innings, Columbia got the bats going again in the sixth.
Curtis led off with a single and moved up to second on Bucklin's sacrifice bunt.
Musgrove earned a walk and Goodwillie reached on an infield single to jam the bases full.
Howard singled with two away to drive in Curtis, and Gross walked to push home CHS's seventh run.
Columbia put runners on base in every inning except the seventh. They left the bases jammed three times.
Monday's post-season win was Columbia's first since 2002, when the Bruins qualified for the WIAA 2A state Final Four in Yakima. The Bruins finished fourth that year.
Dugout notes: Trico teams made a clean sweep of things Monday, as all four defeated their Evergreen League opponents.
Trico No. 2 Castle Rock ed-ged Evergreen No. 3 Hoquiam, 4-3; Trico No. 1 King's Way topped Evergreen No. 4 Elma, 11-1; and Trico No. 3 La Center beat Evergreen No. 2 Tenino, 8-6.