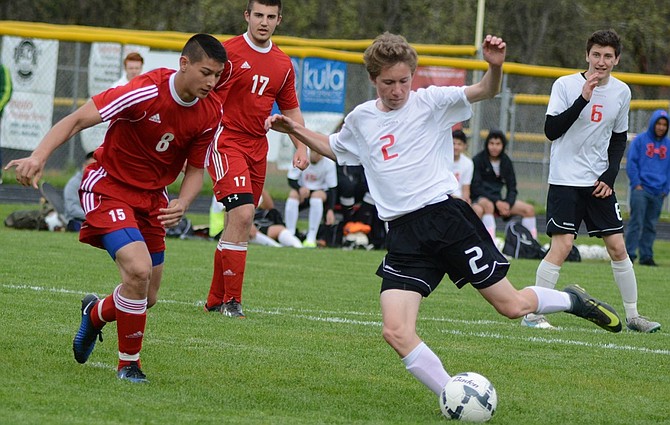 A pair of shutouts in the final week of the 2017 regular season clinched a Southwest District 1A boys soccer tournament berth for Columbia High.
The Bruins, the 1A Trico League's No. 3 seed, opened district play on Tuesday, at Evergreen No. 2 Elma (8-7-1).
A win at Elma would put the Bruins into a semifinal match on Thursday versus Toledo/Winlock United, at 6 p.m., at King's Way Christian HS, in Vancouver (edit: CHS soccer team won its Tuesday game and will be playing this evening, Thursday, in Vancouver against Toledo).
The Southwest District has three berths to the WIAA state tournament this year. The third-place and championship matches will be play-ed Saturday afternoon at King's Way, at noon and 2, respectively.
Columbia went into district as one of the top-two seeds a year ago. CHS lost in the semifinal round to Tole-do/Winlock, 3-1, then fell to Hoquiam in the match for third place. The loss ended the Bruins' state-tournament streak at eight in a row.
The Bruins earned a must-win at King's Way last Tues-day, May 2, shutting out the Knights, 1-0.
Three days later Columbia hosted Castle Rock for its regular-season finale in Bruin Stadium. CHS won with ease, 10-0, to finish the regular season at 7-4-1 in league and 8-6-1 overall.
The Bruins started the scoring midway through the first half en route to a 7-0 halftime advantage.
Senior midfielder Beau Modrich netted the first goal with a penalty kick and finished the first half with two goals.
Freshman forward Finn Coffin also tallied two goals. He lined in a left-foot shot from about 8 yards for his first goal; his second came on a tap-in at the goal line after the Rockets' goalkeeper rejected his initial offering at the net.