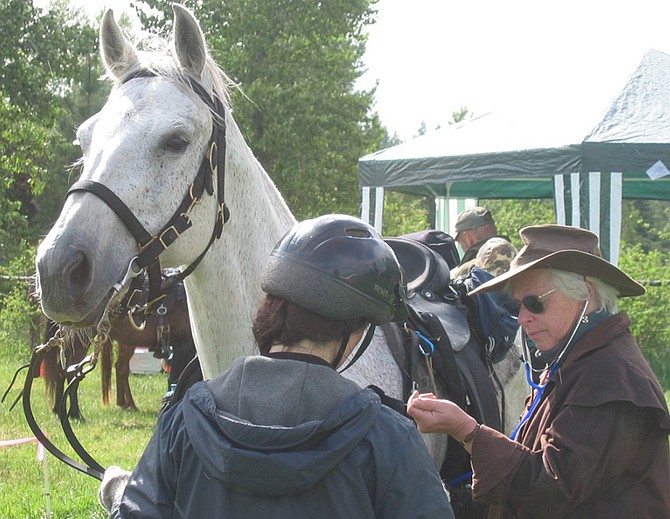 One hundred and fifty horse riders from California to British Columbia are expected in Trout Lake on May 20. Riders and their horses are competing in the 20th Annual Mt. Adams Endurance Ride in distances from 30 to 100 miles.
This is a great ride for everyone from first-time endurance riders to world-class competitors with everything from a 12-mile trail ride to a 100-mile competition. Riders enjoy miles of forested trails in the Gifford-Pinchot National Forest and adjacent timber lands. Elevation ranges from 1900-feet to 3500-feet. The well-marked trails are single track or old Jeep roads.
An endurance ride is essentially a long trail race (of 50-100 miles) with vet checks periodically along the way and where the first one to cross the finish line wins. The 30-mile (aka Limited Distance) ride is intended for new riders to the sport. The 12-mile trail ride (not a race) is offered for anyone who has a horse and wants to come up, get their horse vet-checked, ride the marked trails, and enjoy a weekend of equine fun.
In addition, there will be a Ride & Tie option (one horse, two riders) where riders and runners join forces to cover 25 miles. Any breed can compete, but the Arabian generally dominates the top levels due to the breed's natural endurance abilities.
Mt. Adams Endurance Ride is one of the premier endurance rides in the country. It's well-organized, sports fabulous trails, and it has a great campsite in the middle of the Gifford Pinchot National Forest (a huge field in the middle of the USFS with a view of Mt. Adams). Fifteen years ago, the ride hosted the Pan American Championships here with international competitors representing 11 different countries. This year, the 55 and 75 mile distances also serve as a qualifier ride for FEI riders who want to compete internationally.
Hood River's Michael Foss, DVM, of Alpine Veterinary Services, will serve on the vet team (along with four others). Foss is a top-rated endurance veterinarian having vetted in world competitions from Australia to Dubai, UAE.
Competitors and their horses generally arrive Friday to establish camp and pass through the mandatory pre-ride vet check. The pre-ride meeting Friday evening defines details of the race and the designated criteria. The first group to leave camp will be the 100-milers at dawn on Saturday. The last group to depart is the 12-milers at about 9 a.m.
This is a wonderful opportunity to view an endurance competition close to home. Novice riders may want to consider signing up for either the 12- or 25-mile distances for a sweet taste of what endurance riding is all about.
For registration information about the Mt. Adams Endurance Ride www.mtadamsride.wordpress.com or if you'd like to volunteer contact ride manager Steph Irving at stephirving@gmail.com or 509-395-2065.
For more information about ride and tie: www.rideandtie.org.