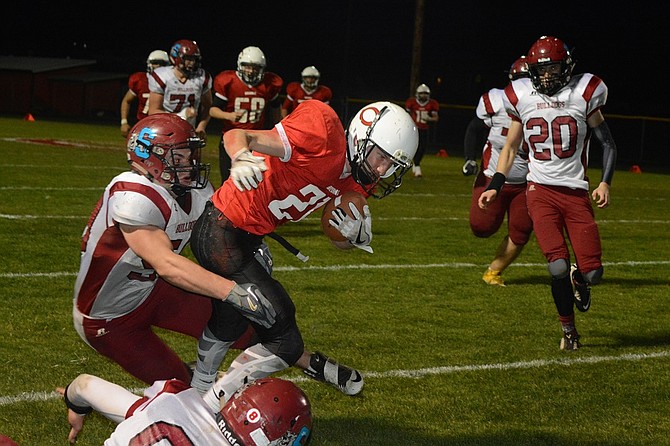 A 23-21 loss at home to Stevenson last Friday ended Columbia High's 2017 football season.
The Bulldogs' Isaac Hoidal kicked a 30-yard field with 3:25 remaining in the game to put Stevenson on top, 23-21.
The Bruins lost a fumble on the ensuing kickoff, but Hoidal missed a field-goal attempt for 39 yards.
CHS got the ball back one last time with 1:49 to go at its 20-yard line.
Junior Chandlor Bucklin ran three times for 36 yards and completed a pass for 8 yards to senior Johnathan Douthit to move the ball to Stevenson's 36.
CHS spent its final timeout with 49 seconds remaining. Back-to-back incomplete passes, however, caused CHS to turn the ball over on downs to Stevenson with 17 seconds left.
Columbia scored first, on the opening drive. The Bruins marched 45 yards (after a failed onside kick attempt) in seven plays for a touchdown, which came on a 20-yard run by junior Trenton Howard.
The Bruins trailed 14-7 with 4:11 left in the second quarter but a big kickoff return by Howard set CHS up first-and-10 at the Bull-dogs' 14.
On second down, senior Tyler Webster scored from the 7.
CHS took a 21-20 lead with seven seconds to go in the third quarter when senior William Gross faked a field-goal hold and passed the ball to Webster for a 4-yard touchdown. It came on the drive's ninth play.
The teams traded possession back and forth in the fourth quarter before Hoidal kicked the go-ahead field goal.