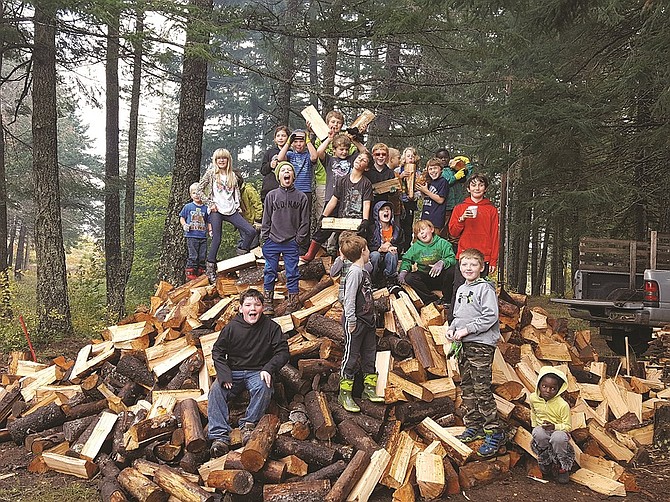 The families of Pack 384 have been hard at work preparing for their annual firewood fundraiser.
Kids and parents work together to cut, split and pile the firewood in the early fall, and then in mid November, the Scouts deliver and stack the wood at the customers' house.
Pack 384 has a long history in White Salmon stretching back to the 1960s. However, interest waned a few years ago, and the Pack lost its charter. Thanks to the efforts of some local families, with support from the Cascade Pacific Council, Pack 384 was reformed in 2015.
"We made the decision when we re-chartered that we wanted the kids to focus on being scouts, not salesman", says Jon Cole, who at the time, took on the role of Pack Master. "The firewood sale seemed like a great way to get the kids working as a team, while selling something useful to the community."
Webelos Co-Den Leader Sandy Slayton says, "We hardly have the ad posted online, and we sell out each year. It's great to see the support from the community for a great organization like this."
While the firewood fundraiser is a family event, next year will be even more special.
Scouts announced beginning in 2018, both girls and boys will be welcomed as Scouts.
"I grew up in Scouting," says current Pack Master Greg Hohensee, "and I am excited that my daughter will now have the opportunity to experience all that Scouts has to offer. From its rebirth, Pack 384 has been promoted as an inclusive organization. This move from the national level helps to resonate our local message."
Thanks to the hard work of the parent volunteers, Pack 384 is now one of the larger packs in the Mid Columbia District.
"I think our growth and success is because we have made an effort to have Scouting fit in as a fun part of our busy lives" says Joanna Donica, Webelos Co-Den Leader.
Donica's son, Rory, was the first cub scout of this new pack receive his Arrow of Light, and move up to Boy Scout Troop 384 this past Spring.
Pack 384 thanks Jon Cole, Brian Palmer and SDS Lumber Company for donating the fallen trees used for this year's fundraiser.
To find out more about Pack 384's firewood fundraiser, or how to get involved locally with Scouts, contact Hohensee at 509-281-1130 or ghohensee@gmail.com.