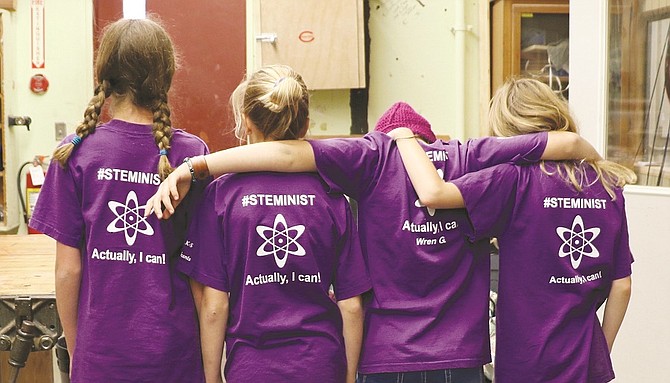 The acronym STEM stands for Science, Technology, Engineering and Mathematics.
The word feminist is defined by the Merriam-Webster Dictionary as "a person that believes in the theory of political, economic and social equality of the sexes."
A STEMinist is a mash up of the acronym and the word to mean "a girl or woman that believes or is encouraged to believe in equality in the Science, Tech, Engineering and Mathematic fields."
In the last 10 years or so, there has been a huge push to get girls interested in STEM activities, classes, and careers, and it seems to be taking off. The White Salmon Valley School District (WSVSD), through the after-school program A-List Adventures, now offers a STEM club just for girls.
In August the program, taught by Jackson Perrin of the Maker-Space, was awarded a grant for $1.7 million over the next five years which breaks down to about $358,000 per year. The program officially began in early October.
According to WSVSD after- school director Dorinda Belcher, "Our goal is to introduce STEM to girls 4th to 8th grade in the hope that they will choose STEM classes in middle school and high school. We believe that by teaching these subjects together (Science, Tech, Engineering and Math) in an inter-disciplinary cohesive approach, STEM education will be more relevant and fun for girls. It will also help them develop the critical thinking skills needed in the high-tech workforce's."
If you ask the girls in the #STEMinist club, they came up with the name, but later learned after a Google search that it was already a word. That didn't stop them from taking their newly learned skills with a vinyl cutter and an iron press to make bright purple T-shirts with the hashtag on them, along with the phrase "Actually, I can!"
The girls wasted no time in explaining the projects they have been working on and how to use the tools available to them in the Columbia High School woodshop. Along with the T-shirts, they have made charms and necklaces using the 3D printer, and used a laser cutter to make wood figures. They are currently working on making shadow boxes.
Fifth-grader Kailey Peterson demonstrated how her shadow box worked using straws to operate the puppets and open the doors of the cardboard box.
"We plan to take the girls on field trips later this year to introduce them to different types of STEM careers. Debi Budnick will give us a tour of Skyline Hospital. We will also get to tour Insitu in the spring; some of the girls already got to go with their middle school classes," said Belcher.
When asked by The Enterprise what they think about the push for girls in STEM careers, the girls all voiced sentiments of approval and agreed that it was "about time."
One 5th-grader, Wren Greeley, said, "There should be a focus on skill. Gender shouldn't matter."