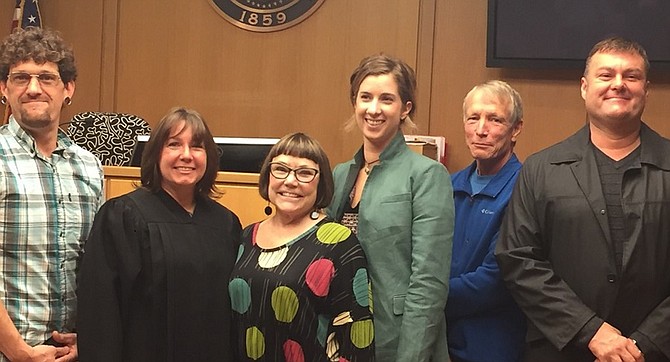 Columbia Gorge CASA (Court Appointed Special Advocates introduces its newest child advocates: Becky Bell, Hood River; Taryn Tkach, White Salmon, and Daylon Donnelly, Antonio Marconi and Michael Wacker, all of The Dalles.
The group was sworn into duty by the Honorable Karen Ostrye on Nov. 9, 2017, after completing 32 hours of training. Prior to leading the CASA oath Judge Ostrye, a former CASA Board Member, described a few of her life experiences and shared some of the aspects CASAs have brought to her courtroom in support of children.
CASA volunteers are appointed by judges to watch over and advocate for children in the foster care system; they make sure that children receive needed services, that timelines are met so that children don't get lost in overburdened legal and social service systems, and that they are placed in permanent, loving homes as soon as possible.
CASAs are in a unique position, as a legal party, to advocate for the best interests of children's lives while in foster care. Judges rely on the comprehensive and informed information provided by CASA volunteers. CASAs have tremendous privilege and responsibility to have a positive impact in a child's case.
Last year, more than 76,000 CASA volunteers helped more than 251,000 abused and neglected children find safe, permanent homes. CASA volunteers are everyday citizens who have undergone screening and training and independent research has demonstrated that children with a CASA/GAL volunteer are substantially less likely to spend time in long-term foster care and less likely to re-enter care.
Columbia Gorge CASA serves children in Hood River, Wasco and Sherman counties; advocates serve children in care so that they might have the chance to live and develop in a safe, nurturing environment. Volunteers receive 32 hours of pre-service training using the National CASA Volunteer Training Curriculum.
New advocate training sessions will begin in the first quarter of 2018. If you are interested in learning more about the CASA program please contact Michelle Mayfield, training coordinator, or Susan Baldwin, volunteer manager, at 541-386-3468. www.columbiagorgecasa.org