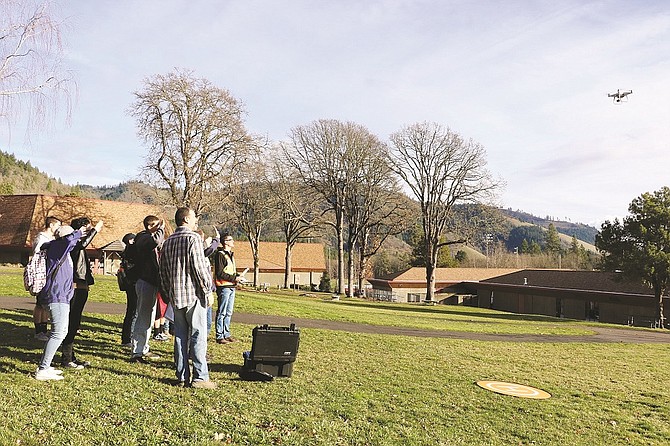 Monday marked the beginning of a new trimester at Columbia High School and the beginning of a new adventure for robotics class students to embark on.
Through a $4,400 grant called the "Robotics Takes Flight" grant from the White Salmon Education Foundation, students in the class will be learning how to build, pro-gram, and fly drones. The class will be led by Makerspace's Jack Perrin.
"A lot of people think I got the idea from Insitu's Roboflight summer program, but that's not exactly true. We have a large presence of tech companies that make and use drones and it's really revolutionized industries in the region. I noticed that there weren't many programs for kids outside of Insitu, which is extremely competitive, so I figured this would be a good unit to add to the robotics class," said Perrin.
"This first class is really just an introduction to what we will be doing in the robotics class this trimester and really what we will be working on this week, weather permitting," he added.
Austin and Isaac Bell, a father and son duo, of Bell Design and Engineering, came and spoke to the robotics class about how drones have vastly changed their jobs as topographical mappers and industries in the region overall.
"This has made our jobs so much easier. What would have taken three days of walking through bushes or trees to do measurements now takes about three hours with the drone," said Austin Bell.
Bell also talked about the rules and regulations from the Federal Aviation Administration (FAA) on where and when one can fly a drone, and about the difference between flying a drone for commercial as opposed to hobby use.
"In the past you basically needed a pilot's license to fly a drone. Now you take a test to get a drone operator's ID card; this is required by law if you fly commercially. There is a whole other set of laws if it's for hobby flying," said Bell.
Bell Design and Engineering will be working with the robotics class to make a topographical map of the high school campus using a quadcopter and mapping software.
"These maps will be able to help architects decide where improvements and additions to the campus can be made," Bell told the class.
If the weather remains rain free there will surely be drones flying around the CHS campus this week.