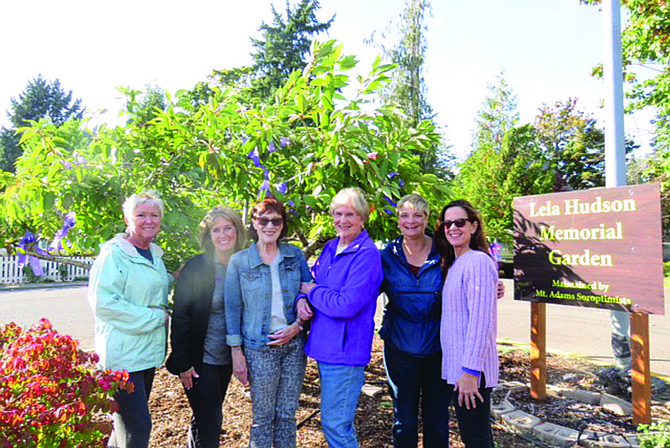 Soroptimist International of Mt. Adams is turning to the color purple as a symbol in effort to end domestic abuse and violence.
During October, Soroptimist International of Mt. Adams will "paper the town purple," joining Soroptimists all over the world in distributing cards with information about domestic abuse prevention.
The Soroptimist Workplace Campaign to End Domestic Violence event will provide the purple cards — the color associated with domestic violence —to local workplaces and area businesses, coinciding with the National Coalition Against Domestic Violence Awareness Month.
According to Safework, a national movement to empower corporate America to address domestic violence in the workplace, one in five employed adults is the victim of domestic violence, and of those, 74% say they have been harassed by their abusive partner at work and 64% say their ability to work is affected by the violence. This can cause a profound financial hardship due to absenteeism, lower productivity and even job loss for the abused.
Researchers in the U.S. have found the general economic losses arising from domestic violence range from $10 to $67 billion per year. Additionally, domestic violence costs American businesses more than $4.1 billion in health-care related costs to victims and nearly $730 million in lost productivity each year, according to the Family Violence Prevention Fund.
Domestic violence can also create a dangerous workplace for the abused and their co-workers.
Bureau of Labor statistics indicate over 20% of workplace homicides against women are perpetrated by relatives or acquaintances, and The Corporate Alliance to End Partner Violence states that 38% of co-workers are concerned for personal safety and 30% experience fear when the abuser frequently visits the workplace.
"Our mission is to increase peace in the community through advocacy and awareness which promotes empowerment," states Kirsten Poole, Programs for Peaceful Living director and co-president of Soroptimist International of Mt. Adams. "We believe peace begins at home."
Papering the town purple is one way to raise awareness and provide support for domestic violence victims in our county.
Soroptimist International of Mt. Adams members join with 75,000 Soroptimists in 130 countries and territories to contribute time and financial support to community-based projects benefiting and empowering women and girls.
In addition to participating in the Soroptimist Workplace Campaign to End Domestic Violence, the Mt. Adams club relies on charitable donations to sponsor the Live Your Dream Award program — cash grants for women seeking to improve their economic situation through training and/or education. Many of these award applicants and recipients are survivors of domestic abuse.
For further information about domestic abuse/violence support, call Programs for Peaceful Living at 509-493-2662 (White Salmon), 509-773-6100 (Goldendale), or 800-799-7233 (national domestic violence hotline).
To learn more about Soroptimist International, visit its Web site, www.soroptimist.org.