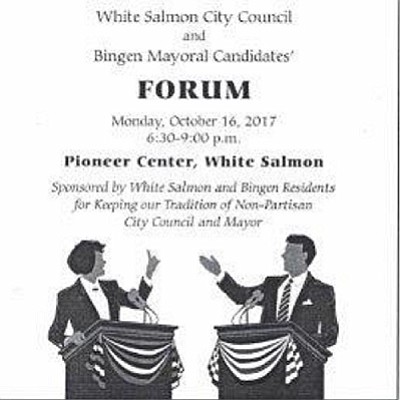 A group billing itself as White Salmon and Bingen Residents for Keeping Our Tradition of Non-partisan City Council and Mayor is putting on a candidates forum next Monday evening, Oct. 16, at the Klickitat County Pioneer Center.
The event is for White Salmon City Council and Bingen mayoral candidates, and the voters who reside in the two cities' public service areas.
According to the announcement, the forum will run from 6:30-9 p.m. and be moderated by a professional facilitator from Six Rivers Dispute Resolution. Candidates will be given time to make opening and closing statements, and respond to voter questions.
A candidates forum scheduled for Oct. 17 under the auspices of the Columbia Gorge Women's Action Network got cancelled last week by CGWAN's Leadership Team.
CGWAN Co-founder Kirsten Dennis announced the decision on Oct. 4. "We were told yesterday that the mayor of White Salmon and a group calling themselves White Salmon and Bingen Residents for Keeping Our Tradition of Non-Partisan City Council Members and Mayors planned a separate Candidate's Night event the day before ours was scheduled. Although many hours of work by our members have gone into thoughtful planning of this community event, we feel that having two separate events will be unnecessarily confusing for the voters and create an additional burden for the candidates, so we are canceling our event," Dennis wrote.
CGWAN started planning its event in August and issued invitation to candidates on Sept. 6. More-over, the Bingen Theater owner had donated use of the theater for the forum.
Last week, the Residents group took out a paid advertisement in this newspaper that announced it was holding a candidates forum on Oct. 16 at the Pioneer Center.
White Salmon Mayor David Poucher, who said he was acting as a private citizen, provided the ad copy and paid for the ad's placement.
The Residents group "asked me whether I would be their face to the public, and I said Yes, but only and strictly as a private citizen, not in my official capacity as mayor."
Poucher said the CGWAN event was troubling to him and other concerned citizens in that it was strictly for White Salmon council candidates but being held at a Bingen venue. Bingen Mayor Betty Barnes, who is not affiliated with the Residents group, expressed surprise that a White Salmon voters forum would be held in Bingen and not include Bingen candidates.
"Also of concern," Poucher said, "was that it appeared as though questions were being gathered online and not limited to valid residents of White Salmon and its urban growth area or service area," Poucher said.
Poucher and his group, moreover, felt the CGWAN event was not going to be non-partisan. To that end, Poucher contacted CGWAN member Sasha Bentley by e-mail on Sept. 28 with an offer to work together to stage a single candidates forum for White Salmon council candidates and residents. In the final issue, CGWAN and the Residents group could not come to terms.
"Therefore, the informal group of concerned citizens are sponsoring their own non-partisan candidates' night, independently moderated, which will include Bingen mayoral candidates," Poucher said. "It will also continue our many-year historical tradition of neutral and non-partisan candidates' nights, and to continue our historical efforts to forestall partisan manipulation."
Bentley said CGWAN is not supporting or endorsing any individual candidates for White Salmon City Council. It invited all eight candidates for the four contested positions that will be on the Nov. 7 ballot; six of them accepted and two declined.
Dennis said, "The CGWAN mission includes encouraging people to participate in our democracy. The intent of our planned event was to provide the White Salmon community with an opportunity to meet and hear directly from all of the candidates running for seats on the White Salmon City Council. You will still have that opportunity on Monday, October 16th, and we strongly encourage you to participate in this event."