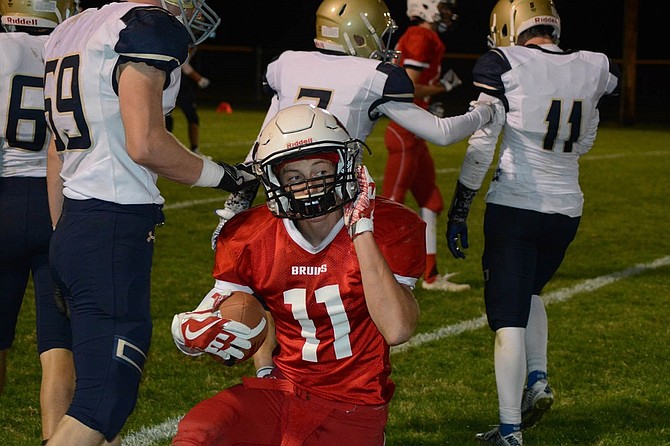 Columbia High is tied for first place in 1A Trico football standings following its 48-7 victory over Seton Prep here last Friday.
Tylan Webster rushed for 193 yards and scored four touchdowns to pace the Bruins, who improved to 2-0 in league and have won their last three games.
The Bruins also got rushing touchdowns from Trenton Howard, Chandlor Bucklin, and Bowen Durkee.
Howard finished with 101 total yards from scrimmage on four pass receptions and three rushes, and Bucklin gained 76 on seven touches.
All told, CHS ran the ball 33 times for 298 yards and passed 11 times for another 113 via six completions.
The Bruins led 35-0 in the third quarter before the Cougars got on the board at the 3:27 mark on a 63-yard run by Taj Muhammad.
That was the lone blemish against the CHS defense, which forced Seton Prep to punt seven times in the first half and eight times total. The Cougars also turned the ball over on downs once in the second half.
Columbia High will look to keep rolling tomorrow night, Oct. 13, when it hosts the King's Way Knights in a homecoming-game match-up that kicks off at 7.
King's Way captured the Trico's No. 2 district playoff berth last season, thanks, in part, to a win over CHS. The Knights have struggled this year, with one victory in six starts. They are 0-2 in Trico after losing to previously winless Castle Rock last Friday, 55-14.
The Bruins were driving toward a score on their first possession last Friday. They picked up 41 yards on their first two plays and stood at first-and-goal from the Cougars' 7. A lost fumble on the ensuing play stopped CHS in its tracks.
Following a second defensive stand and Seton punt, the Bruins took over at 48. Webster carried the ball on all five plays; he reached the end zone from 2 yards out with 3:04 left in the opening quarter.
Columbia tacked on two touchdowns in the second quarter (on short runs by Howard and Bucklin) and led 21-0 at halftime as placekicker Cesar Isordia converted his second and third point-after tries in a row. He finished the game 6 for 7.
The Bruins broke the contest open in the third quarter with touchdown runs of 37 yards and 1 yard by Webster.