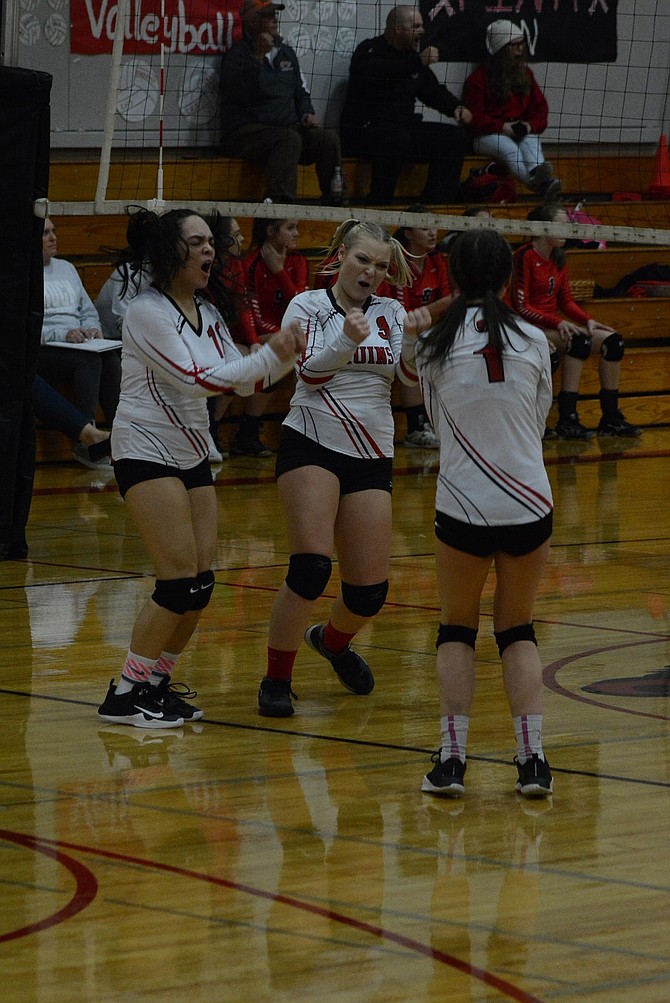 Home-court has been Columbia High's firewall this 1A Trico League volleyball season.
The Bruins held records of 2-1 at home versus 2-2 away entering last Thursday's re-match here with league-leading and unbeaten Castle Rock.
The thought of an upset became more than a mere notion after the Bruins prevailed in the first two sets, 25-20, 25-19.
Miller Gym was rocking as the CHS student section amplified the intensity of the players.
Castle Rock came alive in the third set, however, and extended the match with a 25-20 win. The Rockets even-ed the match at 2 sets apiece after grinding out a 25-22 victory in the fourth set.
Castle Rock maintained its momentum in the tiebreaker and finished CHS off, 15-11, to remain unbeaten and atop Trico standings.
"We are the first league team to go five games with Castle Rock," Bruins Coach Jenny Hallead noted.
For CHS, Sam Tardiff del-ivered 18 kills on 67-of-74 attacks. Roz Slater was 45 for 47 with 17 kills.
Carolyn LaBerge racked up 44 assists on the night, and went 16 for 18 in hitting.
Audrey Keef and Kathirin Hylton combined to go 46-49 in attacks; each chipped in four kills.
Serving also played a big role in the Bruins' upset bid. Keef, Tardiff, Hylton, Gracie Vaughan, Kaycee Radke, and Angelie Sampson all completed 100% of their serves.
"This was the most consistent serving night we've had all season," Hallead said, "which was much needed after missing 13 serves in three sets versus La Center."
Defensive standouts for the Bruins included Tardiff, Vaughan, and Radke. The trio combined for 71 digs and 42 passes on serve receive.
On Oct. 17, CHS hosted La Center for a rematch. The Wildcats burned through CHS's home-court firewall, winning in straight sets, 25-6, 25-22, 25-20.
Slater scored six kills and Tardiff had four in the losing effort.
"Despite our losses, the girls played very well and competed with both La Center, which is ranked No. 11 in state, as well as Castle Rock, which is ranked No. 4 in state," Hallead said.
Coming up: CHS closes out the regular season Thurs-day, at home against Steven-son. Start time is 7 p.m.