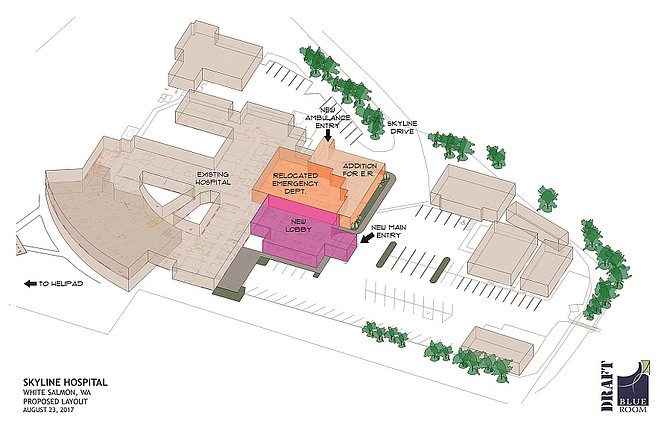 Big changes will be coming to Skyline Hospital next fall, thanks in part to a successful refinancing agreement that allowed the hospital to secure $5 million in non-tax-related funds to renovate and expand the hospital.
Beginning in fall 2018, Skyline Hospital will be expanding its emergency department, reconfiguring the lobby/registration area, and upgrading the HVAC and boiler systems.The renovations will ideally be finished in spring 2019. The estimated total cost of the projects is $7 million; the remaining $2 million is being raised and donated by the Skyline Foundation through its capital fundraising campaign "Expanding on Excellence," which began in July. As of Aug. 31, the Skyline Foundation had raised $50,000.
"As the community we serve grows we need to grow with it. This renovation will not only improve patient care, but work flow and efficiency throughout the hospital," Robb Kimmes, Skyline's CEO, explained at a Mt. Adams Chamber of Commerce-sponsored after-hours event at Skyline on Aug. 31.
In addition, Kimmes announced plans for the buildings that will be vacated by NorthShore Medical Group.
"We will be moving our non-clinical care departments into those buildings, as well a providing off-ices for our new primary care providers during the renovation," said Kimmes.
Kimmes further explained some of the specifics of the renovation for the emergency department.
"In addition to a focus on efficiency and workflow, we wanted our emergency service to have a little more privacy for patients, so in the design process, we are going to add more patient care rooms with updated facilities. We are also going to make room for a fixed MRI facility," he said.
Megan Dixon, an associate with consultants Westby Associates, conducted a feasibility survey for Skyline, which contributed to the Hospital Board's decision to proceed with the expansion.

"I conducted a feasibility study of 40 contacts which included individuals, businesses, elected officials, and foundations. The 40 was from an initial list of 125. I presented them general information about the Foundation and the Hospital, as well as the full vision and master facility plan," said Dixon. "The full plan had three priorities, one of which was the expanded emergency department. Interviewees answered a list of questions that gauged their understanding of Skyline, their approval or interest in the full scope of upgrades needed, and then measured their willingness to contribute a gift if the project was to move forward."
After Dixon conducted this study and received 80% approval from those interviewed, the hospital's leadership determined that the project could move forward, but only the emergency room expansion would be completed at this time.
When asked how this renovation/expansion will impact services at Skyline, Elizabeth Vaivoda, the foundation's marketing director, said they don't anticipate it will have too much of an impact on the day-to-day operations.