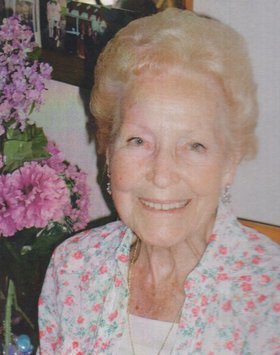 Clara Belle Lamb
April 24, 1921 - March 27, 2014
Clara Belle (Archer) Lamb, 92 of Stevenson, went to be with the Lord on March 27, 2014. She was born on April 24, 1921 to Edith Ellen and Charles Carpenter Archer in Goldendale.
Clara was from a large family and was the last surviving sibling. In 1940 she graduated from Stevenson High School. During WWII her mother, sisters and brothers all worked in the shipyards in Vancouver.
On Feb. 7, 1942, Clara married Frank Lamb. Frank and Clara made their home in the community of Skamania. In 1958 she began working in the sheriff's department and was soon promoted to deputy sheriff, one of only a few women at the time. After 21 years with the Skamania County Sheriff's Department, she entered politics and was elected for two terms as the county clerk. Clara retired in 1998, but continued to serve the community by volunteering to staff the information booth at the Skamania County Fair and helping out at the Columbia Gorge Interpretive Center Museum.
Clara was preceded in death by her husband Frank Lamb and both of her sons Frank Jr. "Sonny" and Charles "Buster."
Clara's never ending smile and positive attitude was infectious to all the lives that she touched.
A celebration of life will be held June 14, 2014, at 1 p.m. at the Rock Creek Hegewald Center in Stevenson.
Send thoughts, favorite memories or stories to Kim Coleman, 16043 SW Mason Lane, Beaverton, Ore., 97006 or send an e-mail to claras.memories@yahoo.com.
Memorial donations can be made to Rock Cove Assisted Living Center, 986 NW Rock Creek Drive, Stevenson, Wash. 98648, or The Heart of Hospice Foundation, 2621 Wasco Street, Hood River, Ore., 97031.
Straub's Funeral Home & Columbia River Cremation in Camas was in charge of the arrangements.
To send condolences or sign the online guest book please visit www.straubs funeralhome.com.