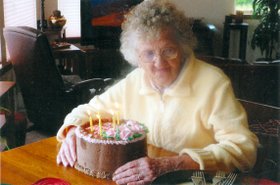 Virginia Margaret Ward
June 18, 1914 - August 1, 2014
Virginia Margaret Ward was born June 18, 1914, in Seattle. She was the daughter of William Burr and Lela McPharren Ward. She passed at the age of 100 on Aug. 1, 2014.
She was preceded in death by her parents, stepfather Patrick Mulcahy, brother Jack B. Ward and wife Faye (Pat), and her aunt Marge Gaffney and husband Jim.
She spent her early childhood days in the family home on Vashon Island. Her father commuted by ferry to Seattle to work as an accountant for the City of Seattle.
Many family members rest in the family plot on the island cemetery with dates going back to the Civil War.
Virginia attended Gatewood Elementary, Madison Jr. High and graduated from West Seattle High in 1932. She attended the University of Washington, hoping to become a nurse. Instead, the Great Depression turned her towards employment in several Seattle bakeries. She also worked as an aide at St. Vincents Nursing Home.
She lived with her mother in several West Seattle apartments until Lela passed. She then moved to The Kenney Retirement Home. She was a familiar sight on her many walks and bus rides around Seattle.
Her many nieces and nephews called her Aunt GiGi. They took her to family gatherings, even vacations to Disneyland and Hawaii. Due to failing health, her nephew and his wife brought her to their home in Southwest Washington. She spent hours observing resident deer and birds and loved rides to view the new landscape.
She will be honored by her family on Aug. 9, 2014, at 1 p.m. at a graveside service in Seattle's Calvary Cemetery.