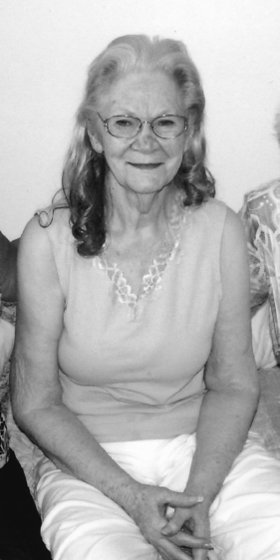 Sara Genelle Blevins Replogle
April 24, 1925 - August 6, 2014
Sara Genelle Blevins Replogle was born on April 24, 1925, in Teresita, Okla., to Bryce and Gertrude Blevins. She died in Boise, Idaho, on Aug. 6, 2014, from heart failure.
Mrs. Replogle grew up in rural Oklahoma where her family owned a general store. She married Alvie Harvey in 1941 and to this union six children were born.
After several years in Oklahoma, the family moved to Westwood, Calif., in northern California, where her husband found employment. In 1956 they moved to the Columbia Gorge and settled in the Broughton Lumber Co. housing in the community of Hood.
Mrs. Replogle managed the Underwood Café on State Route 14 at the mouth of the White Salmon River. She also waitressed for a period of time at Oscar's Café, White Salmon, Mt. Adams Inn and White House Café, both in Bingen.
Mrs. Replogle enjoyed the fact that during steelhead season famous fishermen such as Richard Boone of the 1950-60's TV series "Have Gun, Will Travel," James Arness of "Gunsmoke" and Arvo Ojala, a Hollywood fast-draw artist, visited the Underwood Café whenever they were in area.
In 1967, Mrs. Replogle briefly moved back to Peggs, Okla., before deciding to return to the Northwest and settle in Vancouver, where she met and married Fred Replogle in 1968. They eventually settled in Estacada where she worked at the infamous Safari Club. After retiring she moved to Johnson City, Ore., and worked as a greeter for Fred Meyer stores, later moving to Nampa, Idaho, in 2008 to be near her daughter.
She is survived by her children Jerry Harvey of Vancouver, Brenda Lancaster of Nampa, Idaho; Lowell Harvey of Oklahoma; John Harvey of Vancouver; and Harry Harvey of White Salmon; two step-children; 16 grandchildren; and many great- and great-great-grandchildren; nieces and nephews.
Proceeding her in death was her husband, Fred Replogle; daughter Linda Harvey Aebischer; and brothers Melvin, Leslie, Coleman, and Lodi Blevins.
At her request no services will be held. She will be buried with her husband Fred at Willamette National Cemetery.