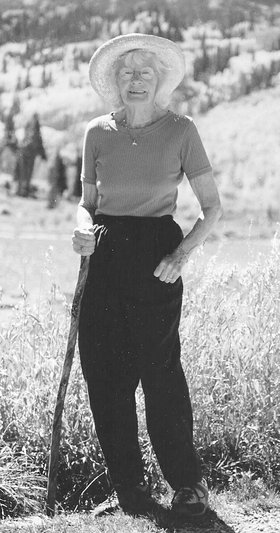 Doris P. Lemley
February 16, 1920 - June 23, 2014
Doris was born on Feb. 16, 1920, in Toppenish to Ward and Grace McEwen. She passed away June 23, 2014, at Mid-Columbia Medical Center in The Dalles, Ore., at the age of 94.
Her family moved to Bingen when Doris was 10 years old. She graduated CHS in White Salmon in 1938. She married Carl Lemley on June 25, 1938. They had three children, Barbara, Carol and Vance. Carl and Doris celebrated 62 years of marriage before Carl passed away in November 1999.
Born the daughter of pioneers and ranchers, she rode her Appaloosa pony, Pinto, from one end of Klickitat County to the other. Doris also loved camping, gardening, tennis and skied until she was 80 years old. Her favorite pets were her Labrador dogs and Nubian goats.
She was preceded in death by her parents, two sisters, Fern and Helen, husband Carl and daughter Barbara and is survived by her daughter Carol Wright and husband Walter (Sonnie) of Goldendale, as well as her son Vance and his wife Eva of Aspen, Colo., Doris had nine grandchildren, 11 great grandchildren and one great, great-grandson.
Her husband Carl will be laid to rest with her. Together, they were fair and loving parents to their entire family. They were hard working, good people and had many friends in the Bingen, White Salmon areas. They will be fondly remembered and greatly missed by everyone who knew them. Rest in peace together. We will love you forever.
Graveside services were held Saturday June 28, 2014, in White Salmon. Arrangements were made by Gardner Funeral Home.