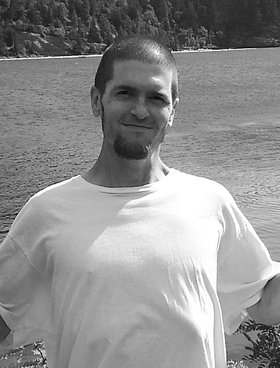 Brent Daniel Cloutier
November 1, 1980 - July 12, 2014
Brent Daniel Cloutier was born on Nov. 1, 1980, in The Dalles, Ore., to Lyle and Peg Cloutier (TePoel). He passed away on July 12, 2014, in Hood River, Ore.
Brent was the most beloved guy on earth. His family knows that he would have wanted his passing to be more a celebration of his life and less a mourning of his loss, so we remember him with joy and appreciation for the time we were blessed to have him in our lives.
Brent was raised in White Salmon, as the only boy in a family with four sisters who adored him to no end. Some say being raised with so many women is the reason he was such a sweetheart. His sisters and mother would indeed like to take credit for this.
Growing up, Brent's favorite activities were beating his sisters at basketball, beating his sisters at kickball, beating his sisters at Nintendo and going fishing. His younger sisters Kate, Liz and Becky can remember the countless hours he put them to work digging up worms for his fishing trips with his dad Lyle, stepdad Rob and grandpa John. They also remember the countless sandwiches and bowls of macaroni and cheese he would ask them to prepare for him after school. They are grateful for all the sweet nicknames he gave them over the years, including "Dead Car Stomper", "Bean Burrito" and "Rejecta."
Brent's best friend of 33 years was his older sister Molly ("Moldy"). Molly and Brent shared a special bond and only called the cops on each other once as kids, which they both considered to be pretty impressive. His hero and other best friend was his dad, Lyle.
Lyle taught Brent how to cook, hunt and woodwork, skills that Brent continued to hone throughout his life.
Brent was a wonderful son to his mom Peg and was very close with her over the years. His mom always called him "Brenny Boy," but only when his friends weren't around.
Brent attended school in White Salmon until his sophomore year of high school when he moved to Goldendale, where he graduated in 1999. After graduating, Brent attended college at North Idaho College in Coeur d'Alene, Idaho.
He had many great friends in Coeur d'Alene and spoke highly of them. As a nickname lover, Brent preferred to hang out with friends who went by unique nicknames such as "Turtle" and "Cheese." Brent was very close with his friends and often said they were like family to him.
Brent loved the outdoors and spent much of his time fishing and camping. He also loved shooting pool, playing poker and watching sports. He was a lifelong fan of the Portland Trailblazers and attended many of their games throughout the years. He was a talented cook and worked in several restaurants in Washington, Oregon and Idaho.
Brent was always the peaceful and calm presence in his family and he will be greatly missed.
Brent's spirit is carried on through his mother Peg Clary, father Rob Clary, and sisters Molly Cloutier, Kate Ohlson, Liz Clary, Becky Clary, and Annie Peterson. He was a beloved uncle to nephews Dylan, Blake, Owen, Jaxon and Mason and nieces Maya and Reece. He will be greatly missed by his loyal companion of the last eight years, his dog Jack.
Brent was preceded in death by his father Lyle Cloutier, grandparents Leo and Lorraine Cloutier and great-grandma Baney Hegesteun.
A celebration of Brent's life will be held at 2 p.m. on Saturday Aug. 9, 2014, at Gardner's Funeral Home in White Salmon. Everyone who knew and loved Brent is invited to attend.