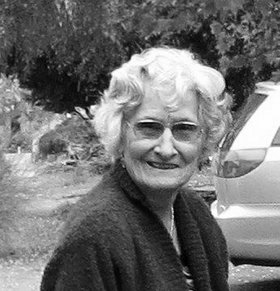 Elizabeth Clarice Funk
December 18, 1920 - June 14, 2014
Elizabeth Clarice Prosch Funk, Dec. 18, 1920 – June 14, 2014.
Preceded in death her husband Chester L Funk, daughter Gayle Elizabeth Estes, her parents John and Emma Prosch.
Survivors are sister Katherine Vera Smith of Maryland; daughters Stella Butler of Gresham, Ore., Penny Perkins of Colville; granddaughter Dixie Thiesies of White Salmon. Elizabeth had eight grandchildren, 10 great-grandchildren in the Northwest. Nieces and nephews spanning from Oregon, Missouri, Maryland and Virginia.
Born in Portsmouth, VA. Married Chester L Funk Feb 3, 1940, in Yuma, Ariz. During WWII, she was a wife of a Navy sailor and during the Korean War a wife of an Air Force Serviceman as Chester changed military branches by 1950. They lived in Little Rock, Arkansas, Virginia Beach, Va., and retired to Spokane by the 1960s.
In 1999, Elizabeth moved to The Dalles, Ore.; later she moved closer to her granddaughter who lived in White Salmon, where she attended Grace Baptist Church and became active in the senior center. Often she was spotted walking through town where she made many friends. Finally she moved close to her daughter in Gresham, Ore.
Elizabeth crossed the US traveling by train (meeting "Elvis Presley"); or by car; by air many times to visit family. She was a published author and poet. Most of all, she loved God, Jesus Christ, Holy Spirit, her family and just plain meeting people. She became a bright light who delighted everyone around her. She will be remembered as going out dancing.
Grace Baptist Church in White Salmon is hosting a Celebration of Life honoring Elizabeth on June 29, 2014, after the morning worship service.
A family graveside will be held in Spokane at Fairmount Cemetery where her remains will be placed next to her husband, Chester.
Donations can be made to the American Bible Society in her name.