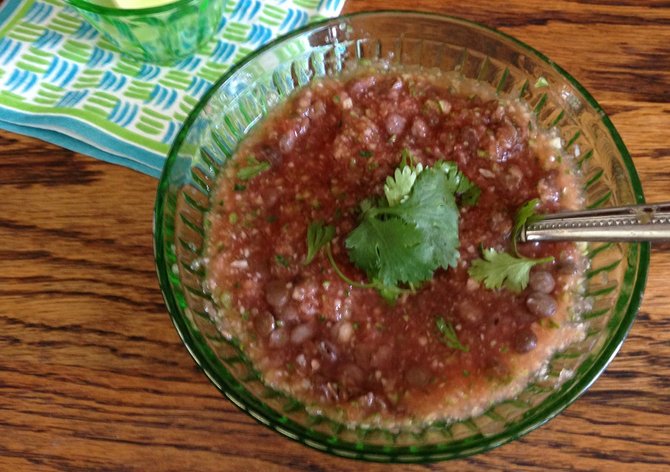 Margee Berry's warm weather watermelon and lentil gazpacho was just one of 114 lentil recipes submitted to the National Lentil Festival's Legendary Lentil Cook-Off and was chosen as one of the top five finalists to travel to the festival in Pullman on Aug. 23 for a chance to win $2,000. Berry travels to cooking competitions all over the country, and has taken home cash prizes many times. Most recently she competed, but did not place, at the Gilroy Garlic Festival in California.
Warm Weather Watermelon and Lentil Gazpacho
Margee Berry, White Salmon, WA
1 ½ cup cooked USA grown lentils
4 cups cubed peeled seedless watermelon
1 cup cubed cucumber
2 trimmed green onions, rough chopped
1 small jalapeno, rough chopped and seeds removed
1 medium vine ripened plum tomato
¼ cup fresh lime juice
2 tbs rough chopped fresh mint
1 tbs tomato paste
1 tbs agave nectar or honey
1 tsp chipotle hot sauce
½ tsp ground cumin
½ tsp salt
1/3 cup rough chopped cilantro
Place first 12 ingredients in food processor or blender (through salt), add all but 1 TBS cilantro. Purée until smooth, transfer to a large bowl and stir in lentils. Chill soup in refrigerator at least one hour. To serve, ladle soup into bowls and garnish with remaining cilantro. Serves 6 to 8. NOTE: for best results have the produce in this recipe chilled before cutting up and using.
Stories this photo appears in:

Whether it's building a better burger in Napa Valley or cooking with cranberries in New York, Margee Berry has made the rounds when it comes to being competitive in the kitchen.