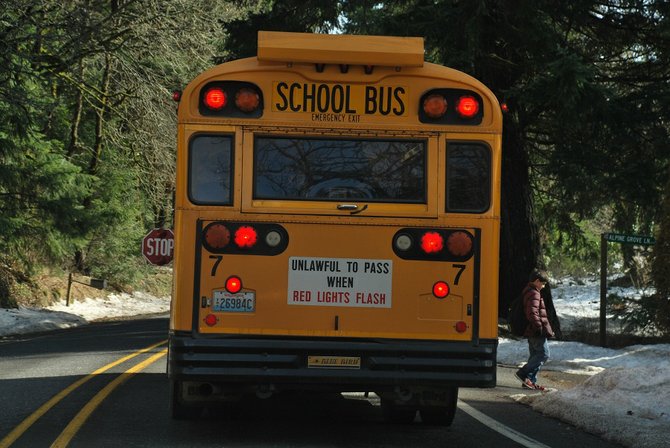 Children unload from school buses off of Highway 141 on Thursday. In Washington it is illegal to pass a bus when it is loading or unloading students. Doing so is called a "stop paddle violation" and can carry a $394 fine, but that apparently doesn't stop some motorists from going around a school bus when it is stopped. This year, Susan Tibke, transportation director of the White Salmon Valley School District, instructed her drivers to note every stop paddle violation they witness. Between Oct. 15 and Feb. 6 Tibke's drivers reported 17 stop paddle violations. Only one of those reported incidents resulted in a ticket due to lack of information. Tibke would like to see that changed with the addition of cameras mounted on all buses specifically tailored to catching stop paddle violators.
Stories this photo appears in:

Bus drivers responsible for transporting students to and from school in White Salmon have started assessing how many motorists pass a stopped bus while students are loading or unloading.