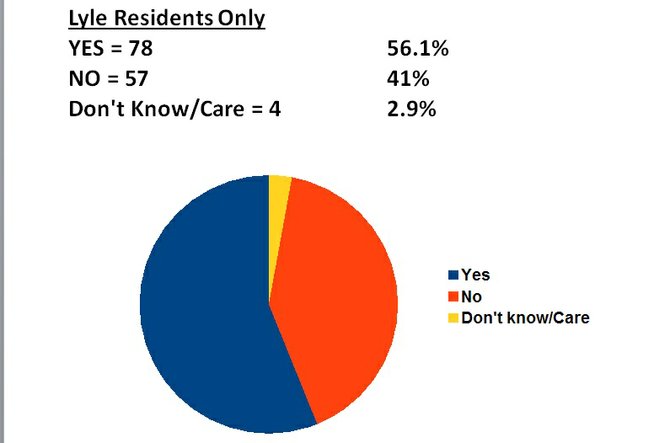 This pie graph shows the responses only from residents of Lyle to one of the questions posed by a survey attempting to gauge interest in more trails in and around the Lyle area, specifically the Lyle Cherry Orchard. The Friends of the Columbia River Gorge circulated the survey after multiple meetings and an open house revealed polarized opinions on the matter. The survey results of question 11, which asked if an expanded, non-motorized trail system would be desirable in Lyle, showed that 56 percent (blue), or 78 individuals, surveyed in Lyle were in favor of more trails, while 41 percent (red), or 57 individuals, did not support more trails.
Stories this photo appears in:

The results of a survey aimed at evaluating local interest in an expanded non-motorized trail system on the Lyle Cherry Orchard property show that a little more than half of Lyle residents who responded support more trails in the area.